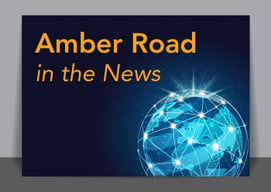 Extra! Extra! Read all about it! From blocking Russian oligarchs to being good ambassadors for the hungry, Amber Road is hitting the news with supply chain best practices and solutions in this month's press coverage.
Amber Road's industry leaders have a lot to say, and this month features pieces written by Gary Barraco (Director, Global Product Marketing) and an interview with Ty Bordner (Senior Vice President, Marketing and Business Development).
It's Supposed to Be, but ACE Isn't Simple, Inbound Logistics written by Gary Barraco:
Importing will always be complex and efforts to simplify processes haven't always borne fruit, like the overhaul of US customs admissibility program, the Automated Commercial Environment (ACE) Single Window. Even though it's creating heavier administrative burdens on companies, there are still many benefits to ACE.
Logistics Gives Back, DC Velocity:
A monthly roundup of charitable works and donations by companies in the material handling and logistics space includes Amber Road's annual "Souper Bowl" food drive.
To Russia, with Love? Automating Restricted Party Screening and the 50% Rule, The Export Practitioner written by Gary Barraco:
You can't turn on the news or read a headline without the word Russia creeping in somewhere. Recent sanctions have real-word implications for US-based exporters and now is the time to ensure they remain in compliance.
Amber Road and Dow Jones Partner to Deliver Expanded Restricted Party Screening Capabilities, DC Velocity:
Amber Road announces a new partnership with Dow Jones Risk & Compliance Practice to offer enhanced Restricted Party Screening by integrating Dow Jones's SOR list into its denied party screening tool to offer a more complete database to quickly vet customers, suppliers and partners.
The Future of Global Trade: True Supply Chain Visibility, Logistics Management interview with Ty Bordner:
Learn more in the Q&A session with Amber Road on the key trends shaping logistics management.
To catch up on Amber Road's press coverage, check out our Press Room. Until then, stay tuned for our July coverage!

This post was published on June 27, 2018 and updated on June 28, 2018.