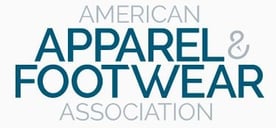 Global supply chains are transforming under the pressure of today's complex and unpredictable environment. If your supply chain has remained stagnant despite modern challenges, it's time to consider some innovative solutions to keep pace with industry leaders. The American Apparel & Footwear Association (AAFA) 2018 Sourcing Conference is a great opportunity to discover the latest in apparel and footwear innovation.
Amber Road is a proud sponsor of AAFA's 2018 Conference, Supply Chain Innovation: The Key To Success in the New Retail Dynamic. This year's conference will take place at the Ronald Reagan Building and International Trade Center in Washington, D.C. from April 24 – 25.
Designed with top supply chain professionals and government officials in mind, the Sourcing Conference focuses on critical customs, trade, sourcing, and logistics issues. This year's agenda touches on everything from manufacturing innovation to blockchain—making it a conference you don't want to miss out on.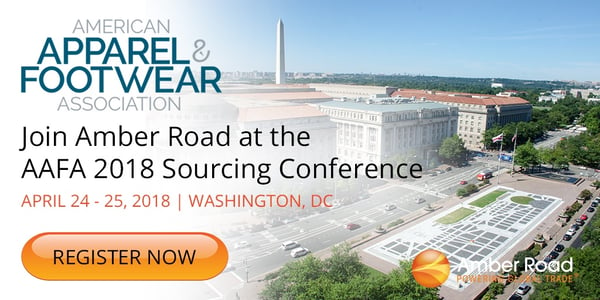 Kicking off the conference, Amber Road will host a Welcome Reception on Tuesday, April 24 at the Hogan Lovells office in DC from 5:00 – 6:30PM. The reception will be a great opportunity to network over hors d'oeuvres, drinks, and the chance to win a $50 Starbucks gift card. You'll also leave with a nifty gadget to keep your headphones untangled!
During the conference, Amber Road's very own Ty Bordner, Senior Vice President of Marketing and Business Development, will moderate the 2:30PM session, Technology Innovation: Blockchain. Bordner will speak alongside Annette Mueller, Commercial Manager of Global Trade Digitization Team at A.P. Moeller-Maersk. The session abstract is as follows:
New trends and technologies help pave the way for the industry to become faster and smarter. Many are exploring how blockchain technology can meet their needs. As technology develops, there are new ways to leverage it for your company. Blockchain is predicted to create a transparent and smarter supply chain. But, what is it and what are the practical applications for blockchain for the apparel and footwear industry? Dive into the not-so-basic fundamentals!
Over the past few years, blockchain has evolved into one of the most powerful terms within business. Whether you're on board or still skeptical, this Technology Innovation: Blockchain session will go beyond the basics into real-life examples of blockchain in action.
In between sessions be sure to stop by the Amber Road booth to enter our raffle for a pair of Apple AirPods! If you're interested in learning more about the benefits of supply chain solutions and blockchain innovation come find out how Amber Road can serve your needs.
If you haven't already registered, you still have the chance – go to the AAFA site to register you and your team today!