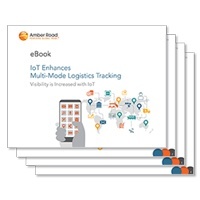 Internet of Things (IoT) applications can bring the disparate parts of your supply chain together to create an information ecosystem that benefits all of its participants. Visibility into milestones like current status, location, transit times, costs, POD documentation, and more, has allowed shippers to improve operations, capture data for historical analytics, and improve the future movement of goods.

Companies that leverage technology solutions that provide comprehensive, multi-modal data in a consolidated platform will be leading the pack.
Amber Road's new eBook, IoT Enhances Multi-Mode Logistics Tracking, explores how you can benefit from this new level of end-to-end shipment visibility.
Instantly access transit times from every carrier along the route to create efficiencies and increase communication

Make informed decisions via connectivity and live data feeds from Amber Road partners like project44

Provide the highest level of customer satisfaction

Upgrade your track-and-trace capabilities to become a multi-mode control tower visibility platform
Amber Road's Supply Chain Visibility solution provides multi-mode in-transit visibility functionality that connects importers and exporters with their overseas suppliers, logistics providers, brokers, and carriers.
The network data is enhanced by leveraging project44's API-based integration layer to achieve carrier connectivity and next-generation data standardization. This level of modern connectivity includes the use of data from IoT devices to replace outdated mechanisms like EDI and/or SMC3 rate bureaus, FTP, spreadsheets, website scraping, and manual processes (phone, email, fax).
This post was published on November 20, 2018 and updated on February 21, 2019.