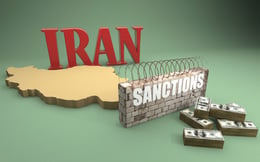 The recent lifting of some Iran sanctions has created considerable interest in the global trading community. However, while there is optimism and hope that a closed market with big investment and opportunity will open to worldwide trade soon, there is also uncertainty. When is the right time for getting back into trading with Iran? Now? Or should we wait a little longer? The messages sent from governments are, at best, mixed. Since mid-January, the EU and the US have formally lifted important elements of their previously enforced strict sanctions. Trade promotion authorities have started setting up trade missions and we read reports about mega-deals being signed.
However, in my opinion, it is still necessary to be cautious. While it is true that many of the sanctions imposed by the EU and US have been lifted, significant US sanctions still remain in place, which means that a large scale return to full trade with Iran is still a long way off. The US primary sanctions continue to be in force, which, amongst other challenges, prevents the processing of any payments that are linked to Iranian transactions. This prevents all US dollar payments with a connection to Iran, even if the transactions themselves are not in breach of sanctions.
While these primary sanctions do not directly prevent banks outside the US from processing transactions in other currencies, the reality is that most banks are paralyzed by fear that they may unwittingly breach the US sanctions and face huge fines. As such, they tend to reject anything with Iranian connections. Consequently, a transaction taking place on the other side of the world in non US dollar currency may be rejected by the bank out of fear of it leading to a breach of the US sanctions.
Difficulties also remain for companies within Iran to make payments out of the country due to a reluctance of many banks to deal with Iranian banks. It will take some time before trade with Iran can safely and smoothly be undertaken. In the meantime, inquiries should be made with your bankers to ensure payments can safely be received from your counterparty.
Interested in learning strategies for ensuring compliance with trade sanctions? Download our white paper, Six Best Practice to Improve Compliance with a Restricted Party Screening Solution.