It's been six months since the Importer Security Filing (aka Customs 10+2) regulations took effect, but some companies are still struggling to achieve 100% timely and accurate filings as required by these new regulations.
With fines of $5,000 per infraction and broker fees averaging $30 per filling, importers are very aware of the expenses associated with complying with the program, but struggling to understand where their responsibilities lay, and how to best comply while staying inside their budget.
Check out this new eBook by Management Dynamics, and learn twelve vital facts about the ISF regulations including answers to frequently asked questions such as: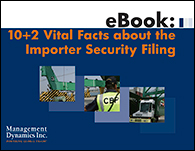 What are the basic elements of an ISF filing?
What are the penalties of non-compliance and for unintentional errors?
How does my company minimize the costs and risks of compliance?
What resources are available for more information on ISF?
Download your free copy today: 10+2 Vital Facts about the Importer Security Filing.