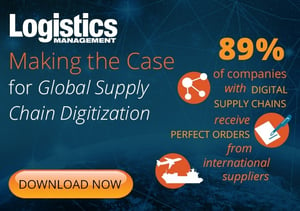 As global supply chains become more and more complex - and as international shipping costs continue to rise - you know that digitizing the data and collaboration tools in your supply chain is more crucial than ever. The companies that are truly thriving these days have something significant in common: a digitized supply chain. Leveraging structured data can help ease external pressures while also providing high levels of visibility, improved efficiency and minimized risk.
But where do you start? And how do you convince others in your organization - and in your supply chain - to get on board?
Make the Plan
You'll need to start with a digital model of the global supply chain—the structured data and database that can manifest the broad and deep aspects of that supply chain. This requires a software solution that can model various data structures that represent a "real world" supply chain that not only incorporates the activities that take place before a purchase order is even issued (e.g., research, getting product data, negotiating prices), but also all of the transactional steps (bills of lading, commercial invoices, packing lists, export entries, customs entries, vendor bookings, and so forth).
"These steps create a lot of complexity across the global supply chain," says Ty Bordner, SVP of marketing and business development at Amber Road.
When companies fully digitize their global supply chains, they're not just layering technology on top of current processes. To be most effective, this digitization also has to incorporate the people, processes, and products that come together to form the end-to-end supply chain. Done right, global supply chain digitization enables three critical business functions:
Collaboration - ensure every member of your supply chain, beginning with the raw materials supplier, is on the same page

Automation - scale up, reduce errors, and calculate landed cost immediately

Analytics - take a structured look at your data to create an audit trail and generate game-changing reports
Make the Case
Now that you've seen what's possible with a digital supply chain, it's time to help others in your organization see the digital light. You could share some staggering stats, such as:
89% of companies with digital supply chains receive perfect orders from international suppliers, ensuring on-time delivery

Allied Electronics saved 3 1/2 man-years

in labor time for its logistics team after digitizing its vendor bookings process
Or you could share the new report from Logistics Management, Making the Case for Global Supply Chain Digitization. Learn how an industry-wide movement toward digitization is making supply chain processes more effective and efficient, with targeted sections for VPs of Logistics or Supply Chain, C-level executives, compliance officers, and the rest of the team.
In this report, discover:
Why the most progressive and best-in-class companies leverage a digitized supply chain

How to achieve end-to-end supply chain visibility that incorporates people, processes, and products

A case study on two shippers using digitization to their advantage

How stakeholders benefit from a digitized supply chain
Everyone wins when all parties are working from the same version of the truth and able to take the appropriate action to optimize their portion of the supply chain. Read the entire report and share with your colleagues!

This post was published on October 29, 2018 and updated on October 29, 2018.