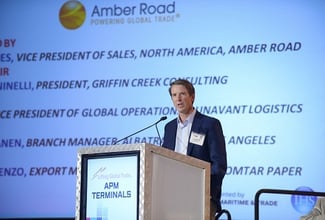 Shippers and international service providers are under constant pressure from new government agencies, new or modified regulations, new trade agreements, changing tax structures, increased competition, and heightened customer service expectations. At the Journal of Commerce's 16th Annual Trans-Pacific Maritime Conference this week, Dr. Frank Appel of DHL stated in his keynote that "trade has become more complex and also more volatile." We couldn't agree more.
The TPM Conference covered many of these concerns for shippers, service providers, and other stakeholders in global trade. Here's our roundup of the top five complexities facing the global trade market in 2016:
Import Controls: Many of our destination markets have unique importation requirements. Non-compliance results in added delays, customs holds, valuation adjustments, and/or excess brokerage fees.
Free Trade Agreements: Customers expect importers to pay the lowest possible duty, forcing us to be aware and qualify products for free trade agreements. The Trans-Pacific Partnership in particular is a massive trade deal, offering many savings and sourcing opportunities, but navigating the requirements involved will be a challenge.
Port Closures: West Coast ports have faced volatility over frequent port closures, and shippers must maintain an agile supply chain to re-route goods in transit when necessary.
Risk Management: The loss of a mega-ship could "rewrite the law of general average," costing more than $1 billion, according to former container ship captain and maritime risk expert Andrew Kinsey. Additionally, Captain Michael Lloyd warned losses such as the sinking of the MOL Comfort could become more common.
SOLAS: Conflicting information about the looming container weight policy, mandated by the International Maritime Organization, has many shippers worried about the July 1 deadline. There is no industry standard document format to provide this data, but an automated Transportation Management solution can add the weight definition to an existing document to meet the new SOLAS requirements.
To address these challenges, GE, Nike, Wal*Mart, Monsanto and hundreds of others have turned to Amber Road. By leveraging an existing network of over five-hundred transportation providers and managing all applicable government agency regulations on a daily basis, Amber Road can seamlessly integrate your global trade activities onto a single platform --enabling you to automate supplier collaboration / shipment preparation, order and shipment visibility, import and export controls, free trade zone and trade agreement management, and calculate total landed cost.
Download American Shipper's benchmark report to learn best practices in business design, or read more about our International Transportation Management solution.