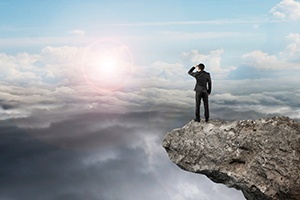 With 2018 on the horizon, players in the supply chain space have been reflecting on the past year in hopes to predict what the future has in store. From the political climate to natural disasters, supply chains have been taken for a wild ride in 2017. If this is any prescience for how to prepare for the approaching year, global organizations should expect the unexpected.
Forbes' recent article, Supply Chain Trends To Watch In 2018, explores the key supply chain trends for the upcoming year. Categories include; omnichannel revenue management, logistics workers and labor shortages, tariffs and global supply chain networks, and the hype surrounding digital technologies.
Within the trend of 'Tariffs and Global Supply Chain Networks,' Forbes contributor Steve Banker explores Trump's agenda to install tariffs and bring production back to the United States. After a year with Trump in office, Banker expresses his shock for how slowly politics moves. The article turns to experts within the global trade management industry, like Jim Preuninger, Chief Executive Officer of Amber Road, to make light in the face of uncertainty.
Preuninger says, "In times of uncertainty, scenario building and analysis can be done preemptively to provide more time to fully understand, design, and implement needed changes. Multinational companies design their supply chains taking into consideration many factors, including fully landed costs, regulatory issues - including tariffs, lead times, and supplier quality and reliability."
As a leading supplier of global trade management solutions, Amber Road offers planning tools that allow global sourcing professionals to compare sourcing scenarios to inform their decisions. Amber Road's importing software harnesses automation for landed cost calculations across multiple sourcing scenarios, improves the accuracy of regulatory data, and ensures import compliance best practices.
With 2018 looming, Banker entertains the possibility of significant new tariffs emerging. Although it is difficult to predict in the face of our uncertain political landscape, significant new tariffs would greatly change the existing functions of supply chain networks. As tariffs become an increasingly important trend to monitor, solutions like Amber Road's Import Management takes some of the burden by automating all compliance functions.
To learn the full capabilities of Amber Road's Import Management solution, download our solution brochure.

This post was published on December 13, 2017 and updated on December 13, 2017.