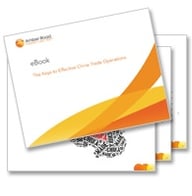 China's dominance as the world's top country for sourcing hasn't swayed under the pressures that have been the topic of discussion in the boardroom, on the campaign trail, around the dining room table, or during trade negotiations in nearly every country around the world. China has maintained its place as the foremost manufacturing hub and continues to gain momentum as the premier outsourcing destination for low-cost and fast manufacturing.

Following the upswing in China sourcing, numerous issues were identified that created additional variability for manufacturers and inhibited country-wide operations: highway and transport infrastructure, complicated trade compliance regulations, higher costs and lower efficiency, supply chain disruptions, intellectual property theft and duty rates.

The rising regulatory and trade complexity experienced by manufacturers doing business in China reflects China's attempt to move away from the undisciplined growth of the past 20 years. What can companies do to manage the risks in this new era of China's development? How can they position themselves to take advantage of the undeniable growth opportunities that exist in China?

This eBook discusses each China trade challenge in detail, and provides actionable steps companies can take to overcome these challenges and achieve benefits including:
Manage China trade compliance more efficiently
Take advantage of tax savings opportunities derived from Processing Trade, importing materials, and/or reducing discrepancies
Enable operations to become more efficient and scalable, as well as more automated and rule-based

Download a complimentary copy of the full eBook to learn how a China Trade Management solution can automate your import and export processes for China operations!

This post was published on July 6, 2016 and updated on July 6, 2016.