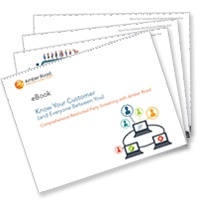 Companies today are exposed to a plethora of risks because of the dynamic and collaborative nature of supply chains. While it's impossible to eliminate all the risks that may exist in the vast business ecosystem, it is possible to mitigate some of these dangers by implementing an export compliance program with a robust restricted party screening strategy.
Amber Road's eBook, Know Your Customer
(and Everyone Between You), details how companies can alleviate risk through active denied party screening of each contact within every step of the business transaction. Key topics include:
Restricted Party Screening 101
Cost of Non-Compliance
PEP Screening
Sanctions & Regulations
Screening Best Practices
Fines and penalties are doubling in major countries around the world as enforcement agencies crack down on export compliance violations. Don't be the next ZTE Corp. - discover how your company can minimize global trade risks today!

This post was published on November 9, 2017 and updated on November 13, 2017.