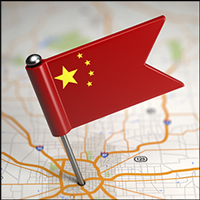 Don't miss your chance to hear global trade experts discuss the current regulatory climate in China! SCM World and Amber Road China have teamed up for a webinar this Wednesday, April 29 - register here!
According to SCM World research, supply chain leaders view China as the indisputable premier growth opportunity. At the same time, it was fifth on executives' list of countries considered too risky to do business in, due to complex trade regulations, immature logistics infrastructure, the threat of rapid cost increases, and an opaque sub-distribution network.
Considering these challenges, how can companies develop a more systematic, strategic approach to trade with China?
Join SCM World and Amber Road for a live webinar this Wednesday, April 29, to dig a little deeper into the dynamics at play in China. Attendees will focus on the challenges and opportunities associated with China trade, from both an import and export perspective. Key topics include:
Core capabilities and strategies for taking advantage of China growth opportunities
What role current manufacturing capabilities in China will play in fulfilling domestic consumption
Insight into the recent paradigm shift in China Customs regulation
How visibility tools and global trade management solutions can help organizations deal with an evolving China
Presenters include:
Kevin O'Marah, Chief Content Officer, SCM World
Barry Blake, Vice President, Research, SCM World
Kae-Por Chang, Managing Director, Amber Road China
Don't miss this opportunity to learn how to capitalize on China's astonishing growth – register today!
If you've already registered, make sure to follow the discussion on Twitter using the hashtag #NavigatingCTM.
This post was published on April 27, 2015 and updated on April 27, 2015.