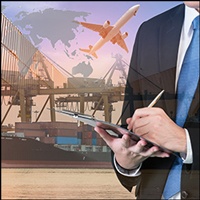 The U.S. Customs & Border Protection (CBP)'s valuation declarations contain critical components that can end in crisis when left unacknowledged. For seamless trade, global companies must understand the basic components of appraised value under Transaction Value and how to prove inter-company transfer pricing between related parties.
Join Amber Road's Global Trade Academy for our upcoming webinar, Valuation ABC's & Related Party Transfer Pricing Pitfalls, on Tuesday, April 17 at 2pm EDT. The webinar will address your top questions surrounding value for appraisement:
What's an acceptable transaction value between unrelated parties?
What's "acceptable" related party transfer pricing?
Acceptable proof for a CF 28; Focused Assessment (FA), or Importer Self Assessment (ISA) program
On behalf of Global Trade Academy, Marian Ladner, Managing Partner at Ladner & Associates PC, will contribute her extensive background in trade law during the hour-long broadcast. Marian leads Ladner & Associate's International Trade Practice with a primary focus on trade regulatory compliance with import and export requirements. She assists clients in navigating the myriad of complex regulatory import compliance requirements, while maximizing transfer pricing strategies, increasing client profits, use of Foreign Trade Zones (FTZs), strategic sourcing best practices and supply-chain operations, with an emphasis on minimizing duties.
During the webinar, Marian will address the following topics:
Value: Methods of appraisement to consider for correctness
Transaction Value: What is required for declaring the price paid and additions
Assists: All 4 types and how/where to find/track them
Related Party Transfer Pricing: Proving its "acceptability" for CBP appraisement
Whether you need to learn your valuation ABC's or you're looking for a refresher, the Valuation ABC's & Related Party Transfer Pricing Pitfalls webinar is a great place to start. Join us April 17th and protect your company from potential pitfalls - register today!
For more information drop us a line at marketing@amberroad.com or reach out to Marian directly: mladner@LadnerTradeLaw.com.

This post was published on April 13, 2018 and updated on April 17, 2018.