When comparing today's retail environment with the past, it isn't surprising that the industry remains focused on improving visibility in the supply chain (again). Anyone who reads the daily news realizes the greater complexity of our business. You've got fast fashion, global competition, changing demographics, seismic political shifts, demanding consumers, product innovation, and throw in an NGO or two pushing for ethical sourcing and sustainability (rightfully so). So many things are affecting apparel and footwear companies, many of which brands have very little control over.
There are things companies can have better control over: supply chain visibility for one. Generally, visibility means that you know what's happening throughout the product life-cycle of your goods and where it's happening at any given time. Moreover, while there are different levels of visibility, I think what we want to discuss is full end-to-end visibility – I like to think of it as a transparent glass pipeline – that allows access to every piece of data on a given product at any given time. And it's essential beyond being called a "buzzword," because full visibility allows a company to deliver their products to their customers on-time and with the level of quality that people have come to expect.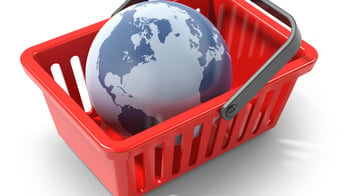 Where we are right now is a moment in which digital technology offers so many remarkable and productive capabilities. We already see it with social media platforms – we know that a single Tweet can circle the globe in a matter of seconds. So, it's not a stretch to envision the data that drives our supply chains doing the same thing. It's just a matter of having the right tools to accomplish it. However, getting to that level of full visibility and instant data access isn't something that simply looks good on paper anymore. It needs to be evidenced in supply chains.
Then there are other variables that global sourcing professionals can control, but maybe they don't have the most current or comprehensive data at their fingertips, so a change that needs to happen on the fly doesn't get done, and this leads to quality issues or missed opportunities. Good data is vital in all of the manufacturing stages - during pre-production, production, and shipment, all the way through to delivery at the customer's doorstep. Without the ability to oversee and actively manage every step of the way, you're letting in too many chances for things to go wrong. What happens when things go wrong? Customers aren't happy, CEOs aren't happy, investors aren't happy, and the brand can go downhill and take your job with it.
Apparel executives have many competing concerns with quality and speed being two that top the list. Ultimately though, costs trump everything else. When you ask CEOs of apparel and footwear brands about their top concerns, it seems like year after year we hear the same top three: reducing costs, maintaining quality, and increasing speed and agility. Simple to say, not so simple to achieve. That's why they're perennial concerns, right?
Cost reduction is, of course, a significant component of global sourcing. We've seen a lot of global upheaval in recent years that have led to some pretty severe shifts in sourcing. Last year, the US fashion industry association conducted their annual benchmark study and found that 93 percent of respondents expected sourcing costs to rise, which is a considerable increase from just 31 percent the previous year. Then to drill down even further, 43 percent said they expected "modest or substantial cost increases," which is up 20 percent from the year before. These numbers can be terrifying for an industry where everybody is looking to cut costs.
Those numbers are translating into action because we see a slight but consistent shift away from China. Where China has been the number one sourcing destination for years, the increasing costs of labor there and improved opportunities in other countries are making a real dent in China's place as the "world's factory." Instead of having a "China Plus One" sourcing strategy, many companies are shifting to "China Plus Many" approach - where they're looking at several other sourcing options, not just one. Just to throw out a few numbers, the US imports over two billion pairs of shoes per year. Two billion! Yet, we produce only one percent of shoes locally. China still has the greatest market share, but Vietnam, Indonesia, Cambodia, and Thailand are all on the rise. I don't think that's a trend we're going to see stopping or slowing anytime soon.
When you add the ongoing China-US trade war into the mix, that further complicates the strategy for companies that have traditionally sourced mostly from China. We still don't know how this is going to end – it seems like the news has a different "hot take" on the latest deal between President Trump and President Xi every day. Will they or won't they meet this month? Will the deal get done or will one side walk away? Are the current tariffs going to jump from 10 percent to 25 percent?
There's so much we could say about China and China trade management, but the bottom line is that you can't understate the importance of that country to apparel and footwear manufacturers, and the current state of uncertainty is causing many companies to take a hard look at their sourcing strategies. These tariffs can affect a company's bottom line. While generally footwear and apparel have been spared to date, that's no guarantee there won't be another escalation that includes tariffs on more – or all – consumer products imported from China.
I think it's a cautionary tale for many companies – don't put all your eggs in one basket! Those with genuinely agile supply chains and sourcing strategies are more prepared to make adjustments when something like this happens. But, without excellent visibility and that agility I mentioned, good luck insulating your profits.
In reality, this conversation is about, visibility and the drivers behind achieving it. That number one concern for CEOs – reducing costs – can include a lot more than just the sourcing location.
All you have to do is look at the news to know there's a massive change happening in global sourcing patterns. Many top-tier manufacturers and brands are either changing or diversifying their sourcing in response to changes in trade norms with China, as well as the uncertainty around Brexit – the UK's withdrawal from the European Union. In the fashion and apparel sector, brands like Vera Bradley, Abercrombie & Fitch and Chico's—to name a few—all plan to, or have already started to, diversify their sourcing portfolio.
Sourcing patterns shift for many reasons, such as geopolitical tensions, environmental changes, rising labor costs, and tariffs. However, they always change because you're trying to balance risk and cost. As you find that balance, it's critical to factor in all the elements that make up the cost of your finished goods. If you're moving for lower labor costs, to qualify for a free trade agreement, or to avoid tariffs, considering every line item in the total landed cost, in isolation, may actually result in costing you more.
Dear Readers – please understand that supply chain pressures aren't going away, and as you consider shifting your sourcing practices to manage the uncertainty, be sure to evaluate all of the aspects before jumping to another country for the shiny penny.
If you'd like to talk about sourcing concerns and strategies, join me at AAFA's 2019 Global Supply Chain and Trade Conference on May 1st in Washington, DC.
This post was published on April 23, 2019 and updated on April 23, 2019.