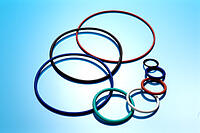 We're sure it happens all the time: your company receives a product order, but you can't decide whether to send it to the account address or the shipping address. However, if those two addresses are in Iran and Dubai, and your product could potentially be used in nuclear programs, you may want to double-check where your shipment is headed – or you could get slapped with a $90,000 fine.
That's what happened to Lee Specialties, a Canadian manufacturer of oil field equipment, when they shipped rubber circles known as Viton o-rings to Iran in January 2012. The o-rings seem innocent enough; resistant to high temperatures and chemicals, they are perfect for the oil fields. However, those characteristics also make the o-rings highly desirable for nuclear programs, which is why anything made out of Viton is considered a dual-use item.
Lee Specialties received an order from Kan Dana Middle East LLC for $6,054.50 worth of o-rings and other equipment, but the order had the account address in Iran and the shipping address in the United Arab Emirates.
As Lee Specialites and Kan Dana went back and forth, the account and shipping addresses were changed five times, and the "last version of acknowledgement" listed an address in Dubai for both fields. But $15 worth of Viton o-rings found itself on the way to an address in Tehran, and the Canada Border Service Agency seized the shipment at the airport.
Canadian authorities have increasingly been pursuing companies that violate international sanctions, as well as those who commit economic crimes like bribery. While it was clear that Lee Specialties made a mistake, that mix-up still cost the Alberta company $90,000, not to mention the legal fees they racked up during their two-year court battle.
"It seems like an innocent thing," noted Judge Allan Fradsham, approving the settlement and adding that the fine was "perfectly appropriate" given the circumstances.
Exporters are always responsible for their own shipments, even if it's an honest mistake, which is why Lee Specialities could have used a Questionnaire Manager solution to help flag accidental shipments like this one.