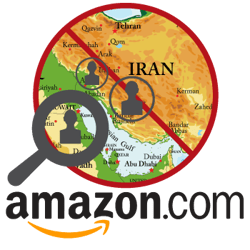 It's always hot news when Amazon is referenced in a story, but this time the online retail marketplace giant is in hot water. In August 2017, the media reported that the US Securities and Exchange Commission filed an investigation into the company's processing and delivery of thousands of dollars worth of orders of consumer products, (including jewelry, home and kitchen appliances and musical instruments), to individuals and entities connected with Iran. Amazon is being investigated for delivering orders to an Iranian embassy, as well as to an individual who may have committed, threatened to commit or supported terrorism.
Amazon may have possibly violated U.S. sanctions against the Iran Threat Reduction and Syria Human Rights Act (ITRA), signed by President Obama in 2012 to "strengthen Iran sanctions laws for the purpose of compelling Iran to abandon its pursuit of nuclear weapons" simply by selling and dispensing the products to the embassy. Foreign embassies and consulates in a host country have a special status. While diplomatic spaces remain the territory of the host state, an embassy or consulate represents a sovereign state. Hence all export control laws and regulations apply when shipping good to embassies and consulates.
Trade sanctions and restrictions aren't new to companies trading globally. But as more violations hit the headlines, we can largely attribute the adverse media due to the increased volume of e-commerce transactions leaving shippers more vulnerable, broader use of social media and consumer awareness, and the intensification of sanctions in a volatile political picture. However, Amazon isn't the only company with recent or past infractions. Nor will they be the last.
Global shipping companies, major automobile manufacturers, big-box retailers, and massive technology product producers have all broken the rules around embassy-specific sanctioning.
Every organization needs to review and improve their sanctioned party list screening capabilities now during this period of heightened security concerns and an administration that is keen on enforcement, or risk facing civil and/or criminal penalties.
Export Compliance Risk Removal or Mitigation?
While it's impossible to remove all risks that may exist in the vast business ecosystem, a sophisticated Restricted Party Screening (RPS), or Denied Party Screening, strategy can make all the difference. Over the last several months, the Trump administration has given a whole new meaning to "know who you're dealing with." Within a matter of days, the US imposed hardline sanctions against Venezuela, Iran and Russia, prohibiting companies from doing business with individuals, entities or agencies identified on the government's Denied Party lists.
As these lists continue to expand and change, all companies—from Main Street to Wall Street—will need to take proper precautions to ensure they are not in violation of any trade restrictions. This means conducting vigilant screenings against hundreds of blacklists maintained by governmental agencies all across the world. What's worse, many of these lists are nothing more than a data dump – in many cases the information is unstructured, inconsistent, maintained manually and as a result, makes it incredibly difficult to determine if companies are actually in compliance.
The Comprehensive Solution
In the current business environment of fast-paced logistics processes and large volumes of customers in companies, screening one's customer base manually for restricted parties is a daunting and often an impossible task.
Manual screenings are problematic for a variety of reasons. First and foremost, they are extremely labor-intensive, subjective and highly error prone, often leading to false positives, or worse yet, missed results all together. RPS lists may include hundreds of thousands of entities at any point in time. Combine that with spelling variations, as well as different languages and alphabets, there could be billions of possible search criterion and combinations. Without advanced solutions or workflow processes in place, there is no feasible way for companies to adequately screen against these lists.
Amber Road's Export Management and Restricted Party Screening solution enables companies to automate – and manage - the export compliance screening process. The solution uses proprietary screening algorithms to identify potential matches while minimizing the number of false positive hits. Its intuitive user interface and workflow capabilities mean a clear identification of possible non-compliant parties as well as a comprehensive audit trail – providing the robust support todays organizations need.
Using a centralized repository, an organization can now elect to screen against thousands of additional entities as part of a comprehensive screening program. Amber Road's Global Knowledge® offering is the only automated GTM screening tool that includes the list of worldwide embargoed embassy and consulate addresses as part of the database, removing the potential to fall into the same situation as the big-name retailers mentioned above.
Exporters should be poised to take advantage of new markets and trade deals, but with the correct tools on hand to prevent illegal transactions, and their associated fines and penalties that may come from a government whose focus has turned towards enforcement. With these capabilities and daily information access, Amber Road ensures companies are utilizing the most current restricted party screening lists which reduces global trade risks and improves process efficiencies.
How confident are you that your organization is screening your dynamic list of supply chain partners against the ever-changing restricted party lists? How much are you willing to bet that you are screening every potential name and address that you should? Join our webinar, "You KNOW Your Customer: But What About ALL of the Parties In Between You?" for a discussion on unique use cases and best practices!

This post was published on October 12, 2017 and updated on October 31, 2017.