Between consumer demands, shrinking deadlines, getting goods to market, rising costs, and shifting trade policies – the job of a retailer is becoming increasingly challenging. But it doesn't have to be an impossible task. If you haven't done it yet, it's time to make the switch to a digital supply chain technology solution that can help you move products to market faster, reduce operating costs, and improve profitability, all while lowering brand risk.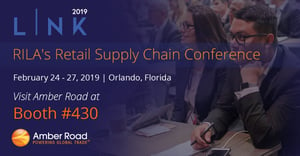 The Retail Industry Leaders Association's LINK conference in Orlando, Florida next week is a great opportunity to learn more about the numerous benefits of supply chain digitization and its impact on logistics, in-transit visibility, and free trade agreements. With sessions like The Shopping Revolution: How Successful Retailers Win Customers in an Era of Endless Disruption and Trade Wars: Retailers' Strategies for Coping with Tariff Uncertainty, you can see what's top of mind for retailers today.
Our white paper, The Top 6 Global Supply Chain Expectations for 2019, also delves into some of these concerns and potential growth areas and outlines how a digital solution can combat volatility in both the market and with government regulations. Amber Road's global trade management software solutions work to streamline your value chain and mitigate risks allowing your organization to focus on forward growth:
Gain real-time visibility, enabling you to respond proactively to disruptions
Enhance efficiencies by decreasing manually intensive compliance and supply chain processes
Reduce compliance risks and lower material costs
Collaborate with suppliers to improve product quality, production status and compliance
Reduce landed cost by producing products at cost-optimal locations to minimize tariffs and taxes
If you're attending RILA's LINK Conference, make sure to stop by Amber Road's booth #430 to discover our solutions for retailers and enter our raffle for your chance to win a Nintendo Switch!
This post was published on February 20, 2019 and updated on February 20, 2019.