Unpredictability around trade protectionism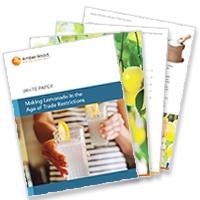 isn't just limited to the US, or even the western hemisphere. For global companies sourcing and shipping around the world, it can be important to know some of the quirkier import and export anomalies, saving time and avoiding headaches from denied shipments and surprise tariffs.
Amber Road's new white paper dives into some of the unusual import compliance and export controls restrictions that have been put in place for various reasons, including:
Spaghetti imports to Nigeria
Canadian lumber imports into the US
Chewing Gum imports into Singapore
Copper and Gold Exports out of Tanzania
Download this white paper to learn how to keep track of these unusual restrictions! Download this white paper today!

This post was published on September 11, 2017 and updated on May 11, 2018.