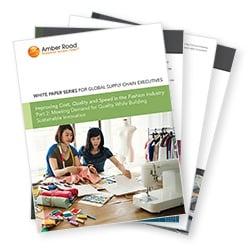 Sustainability is a huge buzzword these days. Everywhere, customers are holding brands to a higher level of accountability - especially in the fashion industry, with the rise of eco-friendly and socially responsible brands flooding the market. Consumers now expect for companies to consider not only the latest trends in fashion but the environment and the well-being of their employees throughout the supply chain. How does one keep corporate social responsibility top of mind while meeting demand for high quality products? The answer lies in automation.
Enabling data quality management to reduce risks, errors, and delays

Improving speed-to-market

Enabling tariff engineering in new products for a competitive advantage

Achieving proactive management of import and export processes
When it comes to quality, there is no compromise. Successful quality and sustainable innovation for new products will be judged by consumer demand. Nonetheless, the road to sustainable innovation can be challenging without the proper resources on hand. With a digital and automated solution, finding a better strategy for cost reduction, quality management, and speed is easier for you and thus beneficial for your customers.
Don't delay innovation simply because you don't have the processes in place to thrive yet. Take the first step – download the white paper today!
This post was published on July 22, 2019 and updated on July 22, 2019.