In honor of National Compliance Officer Day, Amber Road will be recognizing one compliance officer weekly from October 3rd through November 4th. With all of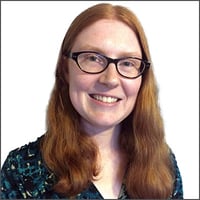 the changes in trade agreements, product testing and ethical sourcing standards, maintaining compliance in any part of your supply chain is becoming increasingly more difficult. We believe in the magic that compliance professionals bring to their company. Therefore, we are spotlighting Bethany Nelson, the Export Control Coordinator for the University of Wisconsin-Madison.
Bethany is a self-proclaimed "nerd" when it comes to compliance! Over the past 5 years, she's helped UW-Madison's Export Control Office grow into a more robust program, through dedicated outreach and education programs. Bethany has done this under the leadership of Tom Demke, the UW-Madison's Export Control Officer. They ensure the University's compliance with relevant federal regulations through hard work and dedicated effort.

Before she helped build UW-Madison's Export Control Program, she earned a B.S. in physics from the University of Wisconsin-Milwaukee but decided that quantum mechanics and black holes were just too pedestrian a field and got a J.D. from the University of Wisconsin Law School.
Bethany is currently on the board of the Association of University Export Control

Officers (AUECO) and helped plan the 2018 AUECO Conference. She has also presented for the National Council of University Research Administrators (NCURA) as well as at the Conference on the Impact of Export Controls in Higher Education and Scientific Institutions.
For the past three years, Bethany has conducted a survey at the AUECO annual conference on the challenges facing university and research export compliance professionals to help to better provide a mechanism for benchmarking in this area. Participation in this past year's survey grew significantly to over 70 universities and research institutions.

It's Compliance Superheroes like Bethany that save the world one compliance team at a time. Therefore, we are naming her as our Captain Compliance this week. Bethany is a great evangelist for our industry, we hope to see her do great things in the future!
Want to be featured as a Captain of Compliance? Fill out this quick form.
This post was published on October 3, 2018 and updated on October 5, 2018.