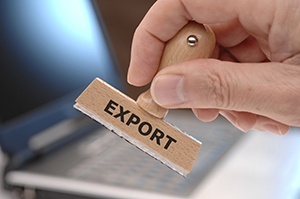 If your organization doesn't leverage free trade agreements (FTAs), you're likely missing out on significant cost savings. Or maybe your organization does leverage FTAs, but your manual processes are extremely complex and time consuming. With hundreds of available FTAs, each being unique in its qualification requirements, there are many benefits to be sought.
That's why global organizations implement duty management software to combat the complexities of free trade agreement qualifications. The new case study, Premium American Brand Saves Millions in NAFTA Duties with Amber Road, tells the story of an American born company known for creating and selling home maintenance products.
With Canada as its largest growing market, this company found itself heavily impacted by North American Free Trade Agreement (NAFTA). The resulting challenges included the need to reduce time at the border, lower duties, and efficiency by replacing an outdated, manual approach.
Amber Road's Free Trade Agreement software enabled the company to centralize and automate their NAFTA processes. The solution provided for efficiency in product classification, document generation, NAFTA qualification and supplier solicitation.
The case study explores the integral role Amber Road played in streamlining border crossings, improving margins, reducing compliance risk, and instantiating a platform for supply chain agility. Realized benefits include:
Increase in workforce efficiency

Boosts in customer satisfaction

Significantly better cash flow and direct hard dollar savings

Streamlined NAFTA certificate supplier solicitation process

More agile supply chain

Reduced need for duty drawback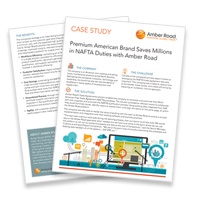 Amber Road's solutions make internal processes quick and seamless—enabling the organization to achieve more progress in four months than it had in the past 15 years.
"Duty outlays were more than $3M per year and are now less than $300K, creating significantly better cash flow and direct hard dollar savings"
To learn more about Amber Road's Trade Agreement solution and NAFTA certification software, download the Premium American Brand Saves Millions in NAFTA Duties case study.

This post was published on December 22, 2017 and updated on May 11, 2018.