Amber Road, the leader of Global Trade Management software solutions, is proud to participate in the World Trade Organization's (WTO) Public Forum this year, "Trade: Behind the Headlines." The WTO Forum is the largest annual outreach event, which provides a platform for participants to discuss the latest developments in world trade and to propose ways of enhancing the multilateral trading system.In this blog entry, we reflect on some of the interesting views we are hearing first-hand at the event.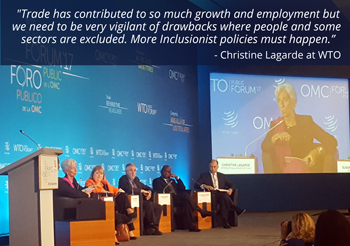 Over the next three days, the WTO will host over 100 dynamic trades sessions organized by representatives from civil society, academia, business, the media, governments, parliamentarians and inter-governmental organizations. This year there are 2,250 participants from over 100 countries.
At a time when the debate on trade has never been more prominent or controversial, the WTO Forum offers Amber Road an opportunity to go beyond the rhetoric and assess the role that
Global Trade Management
(GTM) solutions like Amber Road's platform can play in shaping trade trends. The Forum will help us understand and better predict future changes in global supply chains, and learn how Amber Road can contribute in supporting our global clients.
"Globalization is change on steroids," stated Bruce Stokes, Director of Global Economic Attitudes for the Pew Research Center at the opening session of the event.
WTO Director-General Roberto Azevêdo said, "There is no doubt that this is a testing time for global trade. In a time of rapid economic change, driven by technology, we have the challenge of ensuring that trade continues to be a positive force for job creation, growth and development around the world."
Strive Masiyiwa, Founder of an international telecommunications media and technology group Econet, believes that globalization is now driven by fast-paced technological change and the fragmentation of production, its impact more sudden, more selective, more unpredictable, and more uncontrollable. He said that
technology
has been a major driver of change in global trade over the last few years and has been hugely beneficial to Africa, but more must be done to contribute to growth.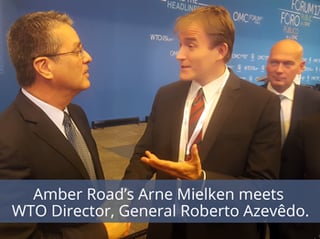 When asked how to make trade more inclusive for everyone, Christine Lagarde, Managing Director for the International Monetary Fund (IMF), stated that while global trade has created major growth, it has also created drawbacks and inequalities for some sectors, which were not able to adapt, and left some people behind. This cannot be ignored and now strongly affect perceptions of global trade.
Practical, ongoing global trade education--like the courses offered by Amber Road's
Global Trade Academy
--and sustainable, trade-supportive domestic policies will allow for the opening and integration of trade in an intelligent manner, according to Susana Malcorra, Minister Advisor for the Government of the Argentine Republic. These steps are crucial to reaping the benefits of successful Global Trade, she said.
Dr. Naushad Forbes, Director of Forbes Marshall, India's leading steam engineering and control instrumentation firm, said, "Many companies who took advantage of moving from a closed market to an open market were able to double revenue and employment. To make trade more inclusive, support of SMEs must be a focus of national trade policy, helping them understand the complexities of international trade and different (messy) trade rules. The WTO Trade Facilitation Agreement can play a major role. Small firms do not need protection but enablement, support and an easier way of doing business."
Global Value Chains were a key topic of one of the sessions, which explored how they have changed global trade and economic opportunity over the last 30 years. Amber Road participated in this session and discussed the role that GTM solutions can play in increasing the
value
of global supply chains by reducing logistics costs, lowering transportation spending, shrinking cycle and lead times, reducing duties and taxes, slashing broker fees, mitigating customs audits, streamlining quality inspections, improving fill rates and increasing material/part utilization.
The afternoon session, "Learning International Trade: How formal qualifications help us reap the benefits of global trade," explored how professional trade qualifications are a key to providing best practice methodologies to both employers and employees involved in international trade, and how these are essential to career planning and development.
This statement is supported by Amber Road's
Global Trade Academy
; offering many trade training courses, formal certification courses and online training. During this session, we stressed the benefits of such qualifications from the perspectives of businesses, employees and the national economy as a whole, focusing on to the potential for business growth, trade compliance, enhanced career prospects and boosting trade opportunities.
Stay tuned for our perspectives on the WTO Forum Day 2!
This post was published on September 27, 2017 and updated on September 27, 2017.