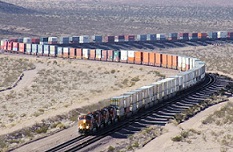 With the enactment of the North American Free Trade Agreement (NAFTA), business relationships between North and South America have improved tremendously.
As stated in the Strategic Sourceror article, "South American Suppliers Gaining Momentum in Global Economy", Mexico is a great example of how these implementations have positively impacted trade relationships. In order to maintain the relationship between Mexico and the United States, Mexico has had to go through many improvements, the most vital being the use of double-stack container trains. By stacking one container on top of the other, these trains are able to carry double the amount per freight.
In the case of U.S. and Mexico trade, the main concern is illicit cargo being transported across borders. For that reason, the U.S Customs and Border Protection created the Customs-Trade Partnership Against Terrorism (CTPAT). By joining CTPAT, participants gain benefits such as expedited transportation and a reputable reputation. Find out more about South American trade relationships and the benefits of the CTPAT by reading the full Strategic Sourceror article here.
Interested in learning how you can keep up with the growing global marketplace? Check out Aberdeen Group's Strategic Inbound Optimization: Foreign Trade Zones and Reshoring Increase now!
This post was published on October 16, 2014 and updated on August 8, 2017.