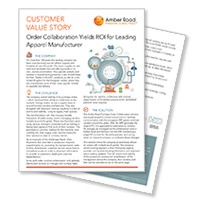 A key challenge plaguing global manufacturers is a lack of overall visibility into their production management and purchase order (PO) lifecycle, as well as a loss of sight into shipment tracking. This sore spot has been aggravated as consumers demand more information regarding their orders (and also want them delivered yesterday). This leading manufacturer of top-tier athletic apparel and footwear suffered intensely from these challenges, which ultimately led to a loss of end-to-end visibility within their supply chain.
Follow the story of how this global company turned to digitization in an attempt to gain insight into their PO lifecycle and production management, factory shipment preparation, and shipment processes in Amber Road's new Customer Value Story, Order Collaboration Yields ROI for Leading Apparel Manufacturer. It details how implementation of Amber Road's Order Collaboration solution helped this company recogonize the following immediate benefits:
Cut delays in third-party scheduling by 70%
Gained visibility into real time shipping events
Reduced their overall PO process
Increased customer fill rates by 20%, and also increased overall customer satisfaction levels
Gained visibility into the production schedule
Improved consistency and accuracy of information shared by vendors and merchandisers
Replicating the success of this athletic apparel manufacturer is not as hard as you think. Discover the ways in which your own company can realize ROI within the first year of implementing an Order Collaboration solution - download our Customer Value Story today!

This post was published on February 26, 2018 and updated on April 6, 2018.