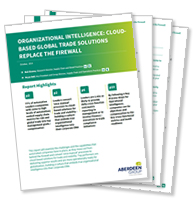 For years companies have confined global trade systems to operate behind the corporate firewall using a manual process. However, with today's growing technology, companies are now able to embed balanced metrics at the executive level and foster organizational intelligence with the use of secure, automated cloud-based global trade management solutions. According to Aberdeen Group, organizational intelligence is defined as the intellectual capacity of an entire organization to act effectively and proactively. It nurtures cross-functional alignment between executive management, departments, teams, and individuals to create an organizational culture and workflow.
In October, 2014, Aberdeen Group conducted a study examining the challenges and capabilities that companies have in place as they transition from a manual to automated process. Results show that 55% of all companies have or will implement cloud-based global trade management (GTM) solutions within the next 12 months. This is a 37% increase over the past three years because solutions have not only become more secure, but they have become more collaborative.
Today's trade landscape drives the need to collaborate and share data from the original source to final delivery. Aberdeen Group discovered that automating leaders exhibit higher levels of control and coordination with the external parties they depend on, resulting in them being 1.69x more likely to outsource, optimize, and manage logistics service providers. As a result, trade automation increases the level of secure data sharing, efficient document management and accurate product classification.
Download the full Aberdeen Group report, Organization Intelligence: Cloud-Based Global Trade Solutions Replace the Firewall, to learn more about the challenges and capabilities that companies have in place as they transition to a cloud-based GTM solution, and how you can:
Embed supply chain metrics for risk and global trade into top management goals/compensation
Convert manual processes to cloud-based solutions for trade and visibility
Provide daily cross-function cost/metric reporting to management and involve executives in trade compliance initiatives
Implement 6 key process steps for operational intelligence
Download this report to learn how your company can increase end-to-end supply chain visibility and foster organizational intelligence!