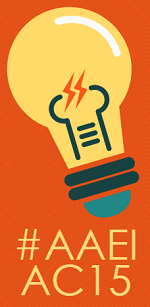 As always, AAEI's 2015 Annual Conference was jam-packed with updates and in-depth discussions on the current trade environment and how it affects your business. This year's theme, "The Evolution of Trade," examined the origins and current realities of both the U.S. and global trade climate. Amber Road sent several of our top executives, content analysts, and thought leaders to the event, and they returned with some key takeaways.
Check out our new infographic below to see a snapshot of what our executives thought was the most interesting, topical, or surprising theme at the conference. Then, scroll down to dig a little deeper into our analysis of a few top trends in compliance and global trade.
Trends in Global Enforcement
The Global Enforcement Trend program was very informative; it outlined key differences between the US' FCPA program and the UK's antibribery act. The different jurisdictions enforcing different regulations is causing harm to US companies trying maintain compliance with both.

Enforcement trends are up with 2014 having the highest average corporate penalty of $156 million; the highest overall was $772 million. In most cases, the issues were focused on the hiring of third parties as mediators to the transaction.

In addition, there was no "de minimus" for violations. Some bribes were as low as $4.00, but the government sees all bribes the same, whether they are for $4 or $40 million. In the case of Weatherford, they simply did not have a compliance program around this issue; other companies such as HP did not have "enforcement" of written policies.
Intellectual Property Concerns
Protecting intellectual property is a growing challenge for all companies and is a global concern. The National Intellectual Property Rights Coordination Center (IPR Center) is the US Government's protection and enforcement arm for international trade law. It is the largest investigative division in Homeland Security and is partnered with 23 federal and international agencies. Last year they conducted 23,000 seizures totaling over $1 billion in value.
The Move to Electric Data Models
ITDS in the United States and the Single Window concept globally are coming! Shippers should prepare to convert from a paper model to an electronic data model. Meanwhile, retailers need to be ready to provide electronic certificates for each shipment.
The Evolution of Trade – What's Next?
Change is inevitable and it is a positive thing; supply chain leaders need to be ready for the next evolution.
Right now, the US is ranked just 15th among international organizations for trade capabilities. The CBP would like to change that, which is why Customs regulations will continue to update – as the CBP and others leverage technology to modernize the process, your company will need to keep up. Learn to control compliance on your terms, before a government agency makes you do it. Implementing automated trade compliance solutions and performing annual ethics and compliance training are key steps.
We look forward to seeing you at the next industry event!
This post was published on June 11, 2015 and updated on June 11, 2015.