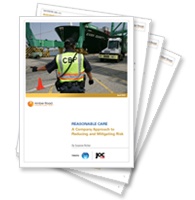 Reasonable care standards promote a consistent approach to a company's import process and are often a mitigating factor in avoiding penalties. Amber Road's Trade Advisory Practice and the Journal of Commerce recently conducted a survey to help organizations rate their reasonable care process over its import and entry filings.
Industry segments included in the survey were manufacturing, retail, wholesale distributing, third party logistics service providers, consulting, academia and government. The Amber Road team researched multiple Customs and Border Protection reports and legal rulings to more accurately define a process to reflect the highest level of reasonable care standards within an importer's auditing process. So how should you demonstrate reasonable care processes when filing entries with CBP?
The resulting white paper, Reasonable Care: A Company Approach to Reducing and Mitigating Risk, contains information on opportunities for companies to review their processes and reconsider how CBP defines reasonable care during an audit. Key topics include:
Why reasonable care is so important
What CBP is looking for in an importer
The five components of an acceptable internal control
The importance of creating risk models based on your import statistics

This post was published on June 3, 2016 and updated on June 3, 2016.