Every year, the 2018 Retail Supply Chain Conference gathers leading retail executives for an opportunity to network and discover developments in retail supply chain management. This one of a kind event is based on the theme of 'Reinventing the Retail Supply Chain: Accelerating What's Possible.' As a global trade management software provider, Amber Road's products take a strong focus on reinventing the retail supply chain.
Amber Road is excited to attend at this year's conference in Phoenix, AZ from February 25-28 at exhibit booth 219. Our industry experts will be available to chat & educate global retailers of how Amber Road's global trade management solutions can serve their organization.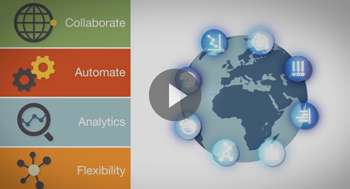 This annual conference, hosted by the Retail Industry Leaders Association (RILA), stretches across all facets of the retail supply chain and connects the industry leaders with the solution providers who are actively innovating the space. RILA says that 77% of attending retailers expand their supply chain education - that's where Amber Road comes in!
In face of the e-commerce shift, Amber Road's white paper, 6 Global Supply Chain Trends to Watch in 2018, points to the need for flexibility to protect retail supply chains from breaking. As traditional sales channels become a mode of the past, flexibility will equip retailers with the ability to quickly adjust and respond as their industry continues to evolve.
However, extensive planning is required to address and identify risks associated with the transition to online sales. Amber Road's GTM software works to streamline your value chain and mitigate such risks allowing your organization to focus on forward growth. That's why Amber Road was selected by some of the world's leading retailers, including: Belkin, DICK'S, Falabella, John Varvatos, Oxbow, and Vera Bradley to name a few.
If you're attending the conference and would like to learn more, add Amber Road to your 'show planner' or you can find us at booth 219. Stop by to enter our raffle for the chance to win a Nike Apple Watch!
This post was published on February 14, 2018 and updated on February 14, 2018.