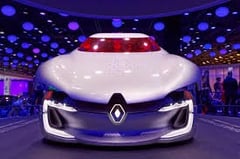 Throughout its 18 years of partnership, the Renault-Nissan Alliance has harnessed its unique business model to increase the value of both companies. Together, Renault-Nissan's value has expanded on a global level—collectively operating in 122 manufacturing plants around the world with Renault headquartered in Paris, France and Nissan in Yokohama, Japan. As one of the largest global automakers, the Alliance began to recognize missed opportunities with preferential duties and struggled to ensure free trade agreement compliance.

The Renault-Nissan Alliance turned to Amber Road to help optimize its European preferential trade processes. The Alliance will use Amber Road's Trade Automation solution to ensure compliance with free trade agreements and maximize its utilization of preferential duties. The solution will support import/export processes from European, Turkish and Moroccan sites, taking into account over 40 Free Trade Agreements.

The Trade Automation solution is expected to significantly increase supplier response rates, a critical factor in preferential trade optimization. With the Amber Road solution, the Alliance has a comprehensive, global solution for supplier solicitation for parts, BOM qualification, and certificate management.

Jim Preuninger, CEO of Amber Road, commented, "I am very pleased to welcome the Renault-Nissan Alliance as a new Amber Road customer, joining several other auto-related companies. As one of the largest automakers worldwide, the Alliance's choice underscores the value that Amber Road brings to the automotive industry's trade management processes, particularly in the area of free trade agreements."
Read the entire press release here.


This post was published on June 7, 2017 and updated on June 8, 2017.