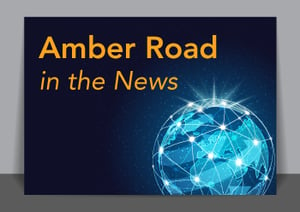 The search for supply chain excellence is on in August. From keeping an eye on activities inside China's borders to the quest for eternal supply chain knowledge, or how to face the challenges and opportunities of free trade and compliance. Amber Road's subject matter experts provide solutions across the supply chain in a range of published articles from industry publications.

China has Another Trade War Going on Behind the Wall in Supply Chain Dive:

Businesses can no longer afford to only keep an eye on what's going on inside of China's borders. Now is the time to make modifications to your operations – learn more in //hubs.ly/H0dwjWD0.
Automated Compliance: Allied's Stock-in-Trade in Inbound Logistics:
Automating global trade compliance helps electronics component distributor Allied Electronics & Automation nail its restricted party screening tests. Allied's executives realized their existing process couldn't adequately protect the company from constantly changing trade policy and potential violations, so an internal team began the work of automating the company's global trade management activity with Amber Road.
The Challenges and Opportunities of Free Trade Agreements: How Global Trade Automation Can Help in Journal of Supply Chain Management, Logistics and Procurement:
Free Trade Agreements and other preferential programs are a two-headed beast, bringing substantial benefits while creating compliance risks and added competitive pressures. The answer to cope with ever-changing sourcing is with dedicated resources, processes and software automation, integrating preferential origin into the whole value chain, gaining strategic competitive advantage — and margin basis points — through every step of the way.

Hey Siri, Can You Find Me the Holy Grail of Global Supply Chain? in Journal of Commerce:
Today's global supply chain executives, like Lancelot and the other knights of King Arthur in search of the Holy Grail, also seek eternal knowledge – but of more banal issues, such as low-cost global sourcing opportunities, shipper KPIs, and shifting trade policies.
Global Trade: Why Does Product Testing Matter? in Inbound Logistics Podcast:
As global trade increases in complexity, global safety and compliance standards have to adapt to keep pace. One important aspect that directly impacts consumer safety is product testing. Gary Barraco of Amber Road joins Inbound Logistics to explain how to better read the product safety regulatory environment and develop strong testing and compliance programs.
To catch up on Amber Road's press coverage, check out our Press Room. Until then, stay tuned for our September coverage!
Organizations recognize the value of going digital with their supply chains but, in many cases, have introduced the idea as point solutions to automate specific processes or functions. This fragmented and opportunistic approach undermines full potential. How can organizations define and adopt digital in ONE holistic approach to operating supply chains across the globe? Learn more in our podcast with the CIO Talk Network.
This post was published on August 30, 2018 and updated on August 30, 2018.