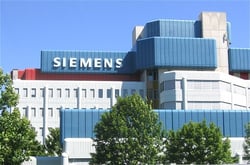 Siemens AG has selected Amber Road's China Trade Management solution to centralize and automate Customs and China Inspection and Quarantine (CIQ) procedures for all of Siemens' China- related import and export activities.
The global electrification, automation and digitalization technology powerhouse is one of the largest foreign-invested companies in China. Guided by its global Vision 2020 growth strategy, Siemens looked for a solution that could help it increase transparency in its China- related trade, reduce costs, and speed the flow of imports and exports.
As a global company with a well-established local subsidiary with offices in Shanghai, Hong Kong and Shenzhen, Amber Road offers a unique combination of global knowledge and local expertise.
"Beyond its advanced technology and global trade management expertise, Amber Road stands out for its in-depth knowledge of Chinese compliance procedures and local, Chinese- language support," said Heidi Zötzl, head of export control & customs at Siemens AG.
Amber Road's China Trade Management solution enables a company to automate import and export processes for all China operations as part of their global supply chain. This allows companies to meet all China compliance requirements for General and Processing Trade, reduce costs and improve supply chain efficiency.
With a centralized trade data repository and an online management system hosted by Amber Road, Siemens will be able to optimize preferential trade opportunities and establish properly documented, auditable processes. Additionally, Siemens will be able to improve customs and CIQ classification across facilities, lowering customs process costs and cutting lead times.
"When it comes to China, Amber Road has perfected the art of thinking globally while acting locally," said Jim Preuninger, CEO of Amber Road. "After many years of working in China, we are able to offer dedicated solutions, built from the ground up to meet local needs. We see a huge opportunity to help companies operating in China optimize their trade management and are expanding our offerings to support China's rapidly changing regulatory market."
Read the full press release here.
To learn more about how your company can approach international trade within China, download SCM World's report below!