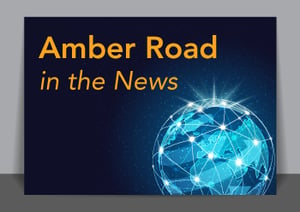 It certainly was hot in July – heat waves across the US and Europe, and everyone's focus on global trade. Amber Road is all over the news talking about digital best practices and solutions including where to find the value and business benefits of going digital with your supply chain, real benefits of US reshoring for manufacturers, and the answers to ethical and social compliance across the supply chain.
US Manufacturers Are Not Reshoring in Forbes:

Even with all the rhetoric around moving manufacturing back to the United States, the numbers are crystal clear. US manufacturing is moving away from any significant reshoring shift. Further validation from Amber Road makes it clear that offshore production is burgeoning still.
Digital Supply Chain: Where Can You Find Value? in Talking Logistics:
There's a lot of talk about the digital supply chain, what it means and why it's important. Learn more about what's the value of digitization in an episode of Talking Logistics and Amber Road.
Brexit: Journey to the Unknown in Global Trade Magazine:
Brexit is only some months away and future customs arrangements between negotiating parties remain totally unpredictable.
IoT Speeds Over-the-Road Shipment Tracking in Talking Logistics:
Global supply chain executives have challenging jobs. What was once simply moving goods around now involves managing relationships with suppliers and service providers all around the globe, while keeping track of the goods as shipments move closer to their destination. Learn how global supply chains are ideal for IoT.
Digital Solution Looks to Reduce Global Logistics Costs, Issue was Created to Improve Margins in Talk Business & Politics:
The supply chain has shifted to becoming more global and with is a lack of capacity in the transportation sector, which is having a ripple effect across the entire supply chain as it works to keep everything going and costs rise worldwide.
Tracing the Supply Chain: How to Navigate Ethical and Social Compliance Complexities in Sourcing Journal:
The extraordinary growth of global supply chains has led to an interconnected world with international products and lower prices for consumers. But this unchecked growth has some unintended consequences leaving brands and consumers in the dark about who and how goods are produced.
Visibility: Will digital solutions help you see the big picture for your supply chain? in Inbound Logistics:
Your supply chain is susceptible to everything from natural disaster to geopolitics but the biggest concern that keeps logistics executives up at night is simply tracking shipments globally to ensure on-time delivery to their customers. Amber Road talks to Inbound Logistics about how digital solutions and data-driven-decisions can help increase supply chain visibility and maybe help supply chain execs sleep a little better at night.
2018: A Supply Chain Odyssey in Journal of Commerce:
It is hard to miss all the technology references in current supply chain articles, like the Internet of Things (IoT), blockchain, machine learning, and artificial intelligence, which are becoming commonplace. A digitized global supply chain can provide tremendous value by simply automating many of the processes.
To catch up on Amber Road's press coverage, check out our Press Room. Until then, stay tuned for our August coverage!

This post was published on August 9, 2018 and updated on August 10, 2018.