Pervasive human trafficking has turned Thailand's shrimp processing business into a $7 billion dollar industry. But now that human rights watchdogs have exposed the poor ethical practices in this country, grocers and restaurateurs worldwide are denying knowledge of the intolerable conditions workers must endure to produce the tasty morsels we have come to enjoy at a great price.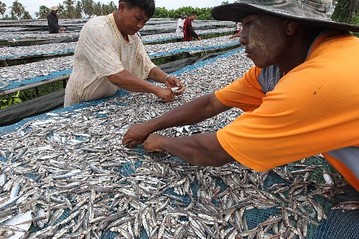 Despite repeated promises by businesses and the government to clean up the industry, an Associated Press (AP) investigation found shrimp peeled by modern-day slaves continues to enter the global supply chain –including many US grocery stores and restaurants.
The investigation showed how fast and far slave-peeled shrimp can travel. AP journalists tracked shipments from a Thai factory with slave workers to major Thai exporting companies and then—using U.S. customs records and Thai industry reports—tracked the shipments globally through the supply chains to some major U.S. food stores, retailers and well-known seafood brands and pet foods. The shipments were also heading to Europe and Asia.
Businesses that were told their supply chains are linked to these slaves in the investigation, condemned the practices that led to these conditions and many are launching internal investigations into their supply chains.
The Thai supplier in the AP investigation admitted it hadn't known where its shrimp was coming from and has outlined corrective measures for its U.S. business partners who have demanded answers.
"The Southeast Asian country is one of the worst human trafficking hubs on earth. It has been blacklisted for the past two years by the U.S. State Department, which cited complicity by Thai officials. The European Union issued a warning earlier this year that tripled seafood import tariffs, and is expected to decide next month whether to impose an outright ban." according to the AP story.
To ensure compliance and reduce human trafficking and slavery risks, companies need to develop policies, actions and processes that address these social concerns and communicate them regularly to their suppliers, partners and consumers.
Collaborative technology solutions such as those of Amber Road are the key to preserving the trust of valued consumers and alleviate risk. Amber Road's solutions for social compliance audit management and restricted party screening can help companies increase supplier collaboration and visibility, ensure supplier accountability, and is a conduit for broader, proactive supplier management activities including traceability.
Armed with solid information about human trafficking and labor conditions in their supplier network, retailers will find themselves better positioned to respond to laws that may follow.
This post was published on December 17, 2015 and updated on August 8, 2017.