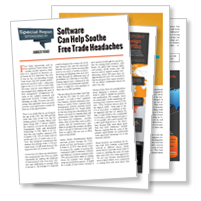 Free trade agreements and foreign trade zones offer an attractive opportunity for US importers to reduce or eliminate duties and taxes, but these benefits hide behind a maze of complex protocols, dense paperwork, and red tape. Sourcing and supply chain executives must also balance duty considerations against material quality, production capacity, and number of components.
Additionally, just because a country is listed in an FTA, that doesn't mean it's going to be capable of meeting the consequent spike in demand. Vietnam and Malaysia, countries included in the TPP, and particularly adept at making shoes, for example, may struggle to ramp up production capacity.
"It might be a couple of years before Vietnam is up to speed, even though it's a good option for making these products," according to Phanibushan Reddy, Amber Road's associate product manager for FTAs. He adds that Vietnam likely can't produce all the textiles they will need in order to support sneaker manufacturing, which will mean there are opportunities for non-TPP countries to step in and grow their export business. "It's an almost unintended knock-on effect," he said.
On top of that, there are considerations about changing a product's components to make it eligible for preferential qualification. Shoes, however, are notorious for being made from multiple components sourced in different places, which means they're especially tricky when it comes to satisfying the rules of origin that come with every trade agreement. "It's not easy, because manufacturers need to know where every component is coming from and, most times, they Amber Road don't have that level of information," says Gary Barraco, director of product marketing. "And the typical sneaker has 85 different components."
No wonder many shippers feel discouraged from making the most of duty management programs. It might be a nice problem to have, but a problem nonetheless.
In this SupplyChainBrain report, Software Can Help Soothe Free Trade Headaches, global trade experts from Amber Road discuss the most pressing issues to consider when looking to reduce duties:
Complex rules of origin
Production capacity and other limitations on FTA countries
Scaling foreign trade zone operations
Technology that automates these processes
Don't miss this expert insight - download the report from SupplyChainBrain and discover how automating your company's duty management efforts can prevent many headaches in the future!

This post was published on August 31, 2016 and updated on September 29, 2016.