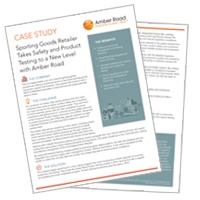 In today's complex and dynamic regulatory environment, retailers must leverage technology and best practices to address costly product safety and compliance risks. Real time visibility and reporting are essential components in preventing disruptions throughout the entire product development lifecycle. However, what happens if your data becomes scattered and is not integrated into a primary supply chain management solution?
Amber Road's new case study, Sporting Goods Retailer Takes Safety and Product Testing to a New Level, focuses on a sporting goods powerhouse that offers a broad assortment of top-brand sporting equipment, apparel, and footwear. Operating in 645 locations across the United States has amplified the need for this retailer to prioritize product safety and compliance in order to ensure the reliable, high-quality products that their loyal customers have come to expect.
However, there was one major problem - working with multiple third-party auditing and testing vendors, alongside their own internal testing services, caused confusion and resulted in lost data. Without automation, it was nearly impossible for the retailer to collect the accurate analysis required to ensure product compliance. Therefore, the sporting goods retailer began searching for a more robust program that could incorporate a holistic approach to sourcing, production, and testing.
By implementing Amber Road's Product Testing module, the retailer was able to automate and streamline product compliance processes and achieve the following benefits:
Enhanced control and management of all testing protocols
Increased visibility from material development to garment testing
Central repository for all test reports and certificates of conformity
Reduced supply chain risks and associated costs
Learn how Amber Road's solutions equipped this retailer with the ability to take preventative measures and reduce their overall risk profile - download your complimentary copy today!
This post was published on April 5, 2017 and updated on April 5, 2017.