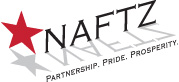 Each year the National Association of Foreign-Trade Zones (NAFTZ) holds an annual Legislative and Regulatory Seminar that brings NAFTZ members together with top decision makers in Washington D.C. to discuss key public policy issues affecting the Foreign-Trade Zone (FTZ) community. This year, Amber Road was a gold sponsor at the seminar, "FTZs: Leading the Economic Expansion – Jobs, Exports, and Investment," which highlighted the trade policy agendas of Congress and the Administration and looked at the implications of those policies on the FTZ community.
We compiled a list of key takeaways from the seminar to help your organization reduce and eliminate duties, lower costs, speed delivery times and improve trade agreements.
FTZs by the Numbers
Exports from FTZ have gone up 168% between 2009 and 2013, far outpacing overall export change
There are 289 manufacturing operations and 3,000 companies operating in FTZs as of 2013
FTZ Imports were 12.7% of total US Goods imports in 2013
Fastest growth industries in FTZs are Vehicles, Electronics, Textiles and Footwear, and Consumer Products
Oil as an overall percentage of FTZ activity has declined to 63% and is expected to continue to fall
Regulatory Changes
The Miscellaneous Tariff Bill, a duty suspension program for mid-level manufacturers, lapsed a year ago with no action expected from Congress. Affected companies can more than make up those savings using an FTZ program.
FTZ Zone Admission filing will be refactored into ACE, and the current anticipated transition date is August 2016. It's expected that the filing format and process will not change at first, but may require PGA data. The ACE program director confided that Zone Admissions are actually an "Entry Type" in the ACE system, meaning that CBP could potentially run similar business processes and validations against this transaction.
Keeping up to date with complex FTZ programs and trade regulations are inherently difficult and manually intensive. In many cases, companies require electronic integration with multiple government agencies, warehouse management systems, and trading partners, including customs brokers and carriers to manage their large volumes of transactions. Luckily, Amber Road's Foreign-Trade Zone solution integrates fully with existing Amber Road capabilities by providing companies with a more effective approach for managing their bonded warehousing and foreign-trade zone operations. By enabling companies to take a holistic, integrated approach to their bonded warehousing and FTZ operations, companies can lower importing costs, enhance inventory control and improve supply chain velocity. Download our Trade Agreement Management brochure to find out more.