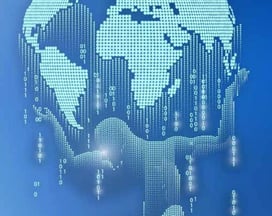 The landscape of global trade management has never achieved a consistent pace, and likely never will. Uncertainty has grown to be synonymous with the global trade climate, making it nearly impossible for importers and exporters to maneuver effortlessly. As one might say, a lot of things are up in the air.
Amber Road is proud to sponsor American Shipper's Global Trade Management Landscape Report: Up In The Air. The report reflects research that exposed an urgent need for global companies to consider initiatives that structure their data and assess how trade policy changes might impact their organizations. The report nods to global trade management systems and services as the most effective solution to global operations.
With the modern trade world in flux, it has become increasingly important for companies to build a strong data foundation to combat uncertainty and remain competitive. This report presents 4 actionable areas that are critical for shippers to prioritize in today's hyper-volatile GTM landscape:
Assess the external trade policy dynamics that could upend your supply chains
Build an unassailable repository of data as a foundation for trade activities
Measure the fiscal impact of anticipated changes
Figure out how to "rightsource" trade compliance needs
The ability to focus on trade data is contingent on having thorough supply chain visibility. GTM solutions collect data across all touch-points of your supply chain; suppliers, service providers, contract manufacturers, and government agencies. However, this doesn't eliminate the need for shippers to identify what data they require to effectively manage their business.
Amber Road represents the type of GTM software that best-in-class companies implement to conduct seamless cross border trade. When it comes to trade compliance, Amber Road tackles regulatory controls, restricted party screening lists, product classification data, landed cost data and trade documentation with Global Knowledge®, the industry's most comprehensive global trade content database.
Tightly integrated with our GTM software, Global Knowledge® is a data foundation that sets us apart from our competitors. As the report urges shippers to create a sustainable structure that leverages available resources and delegates specific processes to those best suited to handle them, Global Knowledge® enables importers and exporters to "rightsource" trade compliance needs.
"In the quest to aggregate and use reliable data, don't fixate on being a self-filer or relying wholly on customs brokers. Most sophisticated companies use a GTM system and the expertise and services of customs brokers to build global trade compliance programs that are more than the sums of their parts."
Staying grounded in today's hyper-volatile environment is a challenge, but GTM providers like Amber Road are here to help. Download the report to learn about the importance of a data foundation or reach out to our team to take the next steps!