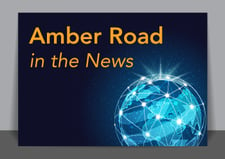 It's been a wild ride in global trade this July – bumpy roads full of regulation potholes; wind-whipping storms slowing movement of goods; and trade wars blocking the flow of global trade traffic. To help companies keep steady, safe, and visible on the global trade trails, Amber Road's subject matter experts offer insight and solutions in the following articles, which appeared in industry publications this month.

Weathering the Trade Policy Storm: Trade Content is Key in Logistics Viewpoints
The new normal in global trade policy is a stormy environment and highly unpredictable. You need proactive measures to keep supply chains safe or become a casualty. Amber Road, now a part of E2open, talks about pinpointing changes with digital supply chain execution.
From Purchase Order to the Last Customs Mile: Streamlining and Automating the Global Supply Chain in Talking Logistics
Risk, uncertainty, complexity, dynamic - these are all terms used to describe today's global supply chains. In the Talking Logistics podcast with Amber Road's Ty Bordner gives insights into how companies can successfully navigate this environment and what actions they can take to streamline and automate global trade processes.
A 'Game-Changing Paradigm' for Customs Filings in SupplyChainBrain
Today only a handful of companies file their own documents with U.S. Customs—less than 5%. An Amber Road, now part of E2open, executive explains how automation and digitization are causing a "game-changing paradigm" in how customs filings are carried out.
To catch up on Amber Road's press coverage, check out our Press Room.
This post was published on July 26, 2019 and updated on July 26, 2019.