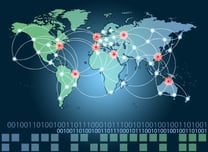 When it comes to software designed to streamline supply chains, there's old global trade management, and then there's the new.The old school global trade management (GTM) systems automate processes that begin when shipments are ready to go, moving them from Point A to Point B in a timely manner at the lowest possible cost while ensuring complete and accurate import/export documentation for shipments. The new GTM automates processes way upstream, even at the product design and component sourcing stages, focusing on risk and quality management, while facilitating compliance with various product regulations.
"The impact of the new GTM approach can be felt in all phases of execution," according a recent research report from Aberdeen. "Product, supplier, sourcing, production and order data are combined with shipment and trade content to form a complete integrated solution."
"Global sourcing from product and material design and development, supplier selection and cost analyses are becoming important to GTM," adds Gary Barraco, Director of Product Marketing at Amber Road.
Free-trade agreements make it less expensive to ship products among the parties to the accord, but not necessarily simpler. "Many shippers are unable to take advantage of them due to the complexity of regulations and reporting," the Aberdeen report notes. "Trade planning is a solution that automates these processes by looking at the variables and orchestrating how the trade should be established from a design point of view." Amber Road has a module that helps exporters manage foreign trade zones and free-trade agreements.
"Where you source your raw materials can have an impact on whether you qualify for an FTA," says Barraco. "It's very important to build products in a way to qualify for free trade."
The Amber Road GTM interfaces with development and design systems to access documents like bills of materials so it can analyze whether the product qualifies for preferential treatment. "It's not a design tool," Barraco notes, "but it facilitates the commercialization of products through the design and development processes."
Similarly, quality management is also part of global sourcing, to ensure that products meet the safety regulations of various countries. Amber Road prompts shippers to get their products tested when necessary and provides a database of certified third-party testing organizations near production locations.
To learn more about the advancements in global trade software, you can read the full press release here.
Then, learn more about the future of GTM and supply chain solutions and the resulting positive impact on a company's cycle times and bottom lines by downloading our eBook below!

This post was published on December 23, 2016 and updated on January 30, 2017.