Managing a global supply chain isn't confined to simple logistics - trade regulations, Customs entry requirements, and shifting tariff rules can have a weighty impact on your landed cost and speed to market.
That's why, at Rider University's Global Supply Chain Symposium, supply chain leaders spoke on a panel titled Global Trade and Its Impact on Your Supply Chain. Suzanne Richer, Director of Amber Road's Trade Advisory Practice, joined executives from Subaru and Firmenich at the symposium which welcomed supply chain and logistics professionals for a full day of presentations and panels from industry leaders.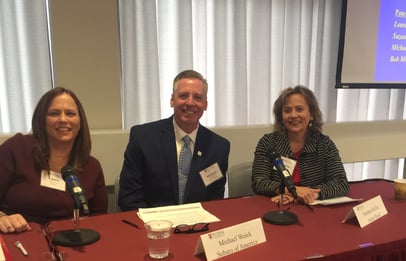 The panel was "the highlight of the program," according to Tan Miller, Director of the Global Supply Chain Management program at Rider University. The panelists explored the strategies and initiatives that companies are undertaking today and planning for tomorrow in order to position their supply chains to thrive in an ever-changing and volatile global trade environment. Suzanne Richer, also a member of Rider University's Supply Chain Board of Advisors, spoke on this panel alongside Bob Murray (REM Associates), Laura Heyburn (Firmenich), and Michael Weick (Subaru of America).
The panel focused on global supply chain trends and discussed tariffs under sections 301 and 232, export controls, best practices for importing, classification nomenclature updates, e-commerce's impact on supply chain practices, and updates to the C-TPAT program. Suzanne also highlighted how to partner with customs through AEO (authorized economic operator) and the impact on UK companies stemming from Brexit.
If you're interested in learning more about any of those topics be sure to check out our on-demand webinars page – many of which Suzanne presents – and download the AAEI Annual Trade Trends Report to learn how companies leverage technology in their supply chain operations.
This post was published on April 18, 2019 and updated on April 18, 2019.