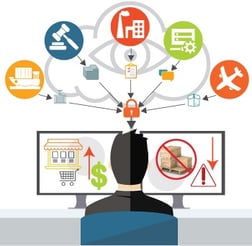 Everything we buy these days - a tube of toothpaste from Amazon, a TV from Best Buy, or a drone from Walmart - comes with alerts: "Your Order has Left the Warehouse!" or "Your Purchase is on its Way!", and of course emails with estimated delivery times usually from both the supplier and the carrier. It is what we've all become accustomed to and it's part of the retail phenomenon called the "Amazon effect."
Well, what if you instantly knew details on the location, arrival, and departure time of everything your own company shipped at

every step of its journey

from you to your customer?
What if this could all happen automatically, with no human intervention, as if "

by magic

?"
What if something becomes delayed at any step of the way you would be automatically notified, and a

revised schedule immediately created

?

What if this could happen with every single order, every single time, no matter where in the world it was going, no matter who the logistics parties were, day or night?

Wouldn't your customers be thrilled if they were automatically alerted to any adjustments in their delivery expectations?
With Amber Road's Global Trade Management (GTM) software there really is no excuse anymore for this to not be the standard practice in the industry globally. And for Amber Road's clients utilizing our Export Management and Supply Chain Visibility solutions, it is an everyday advantage.
With Amber Road's GTM platform, all export shipments anywhere in the world are continuously screened for any regulatory export compliance issues that might impede their progress. But that's only half of the solution to delighting your customers… whose expectations have been set so high by today's worldwide supply chain leaders. Export compliance alone isn't enough. It's just assumed that you do it today. Ongoing communications with each carrier, forwarder, broker (realistically any 3rd party logistics party involved in the end-to-end movement of the goods), is required to have order and shipment visibility for every move of every shipment. But staying on top of every step of every product move you make – now that's where the future lies.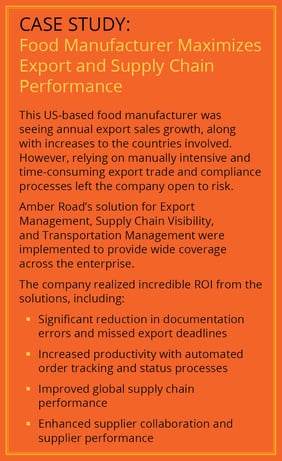 In today's environment, you need a digital solution that "knows" what your shipping schedules and milestones are, what your tolerance for variances is - and a way to alert you immediately when any logistics party in the supply chain is performing out of tolerance. This type of supply chain control tower will enable you to see and focus solely on the exceptions and delight your customers with immediate notification of delays - or even deliveries planned ahead of schedule! (Yes, it does happen!)
No more phone calls to carriers or forwarders, checking web sites, sending emails – you need a system that does all this for you all the time in real-time and alerts you only when you need to get involved. This allows you not only to increase your level of customer services with proactive personalized notifications (who wouldn't just LOVE a phone call from a supplier with shipping updates?), but to free up your time to focus on what's important to your customers and your business.
Amber Road Export Management and Supply Chain Visibility are a win-win – and necessary – software solution in today's competitive world. Check out our podcast discussing how Supply Chain Visibility tools can help you focus on the blind spots in your supply chain!
This post was published on February 19, 2018 and updated on February 19, 2018.