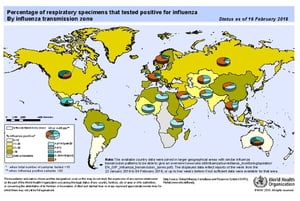 It's been a long flu season all over the world, and store stock of the "sneezing-sniffling-so-you-can-rest-medicine" are flying off local pharmacies shelves. Their real-time inventory system shows several stores running low on over-the-counter cold and flu medicines, which sets off an internal alert. This triggers the logistics teams to ship more from distribution centers set-up as hubs for re-supply. The major pharma manufacturers are keyed into WHO data and have already anticipated the need to produce more at their factories. So the goods will keep flowing.

This scenario isn't farfetched in today's fast-paced supply chain management. Shippers and their supply chain partners are gaining granular insight into the supply-and-demand sides of the supply chain, and responding faster than ever to the needs of their customers at every step of the process.

Amber Road's Stephanie Miles was recently interviewed in Inbound Logistics about the evolution in supply chain visibility. "Years ago, the baseline for visibility was simple track and trace—where's my stuff? Today, companies have advances far beyond that," Miles explains. Miles goes on here to highlight what companies should consider to improve supply chain visibility, and what expectations to set when it comes to their partners' capabilities.
Technology-enabled visibility allows companies to shift from a supply-driven to a demand-driven digital supply chain approach. With this year's flu crisis, could supply chain visibility, including dynamic ETA & event alerting, have placed the vaccine into the hands of patients sooner?
So, "let's get visible" as Miles and Inbound Logistics put it. Learn how a digital global supply chain platform can accelerate your supply chain transformation in our podcast with Ty Bordner, Senior Vice President, Marketing and Business Development.