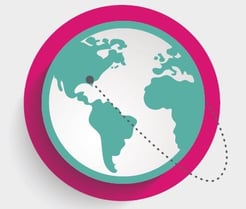 80% of supply chain executives expect the digital supply chain to become the predominant model within 5 years. That's why best in-class companies align global trade management with business objectives and challenge it as a "cost of doing business." These organizations recognize that a digital supply chain results in both qualitative and quantifiable value.
Unfortunately, the trail leading to where the value of digitization can be derived is riddled with complexities. Amber Road and Journal of Commerce partnered up to create an infographic titled 'Navigating the Complexities of Global Trade Management.'

This Journal of Commerce and Amber Road infographic illustrates how complexities of global trade management are best navigated with a custom, cloud-based platform. The infographic highlights the qualitative and quantitative value of digitization. Among the qualitative, 4 key drivers are cost savings, agility, reduced risk, and visibility.
Among the quantitative:

A supply chain that is capable of tackling the complexities of global trade requires superior agility. A digital global trade management model enables visibility that far surpasses traditional outsourcing. Through seamless workflows and end-to-end visible accountability, lower delivered costs and reduced risk can be achieved.
Highlighted in the infographic, Amber Road's Customer Value Story, Perfect Products Require Perfect Order Management, puts such the value into the context of a global organization.
Background: This leading footwear manufacturer is a global organization consists of 15 brands, 1,200 stores across US, China, Canada and Vietnam, and supports $3 billion in annual sales.
Challenge: Collectively, the manufacturer's widespread offerings resulted in 200,000 SKUs posing as a challenge to their outdated infrastructure. The company required a
Solution: Amber Road's Order Collaboration provided a single synchronous end-to-end supply chain platform, that connects factories with important product and order data.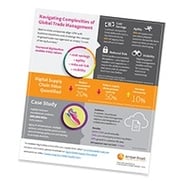 As a part of Amber Road's Supply Chain Collaboration suite, the Order Collaboration solution provides complete visibility into all facets of the PO process. Supply chain collaboration enables global companies to manage their entire product development lifecycle and supply chain execution. This improves internal and external collaboration, standardization of processes, and serves as a centralized knowledge base to store and share data.
To learn more about the value your company can gain through a GTM solution, download the infographic today!

This post was published on February 12, 2018 and updated on February 12, 2018.