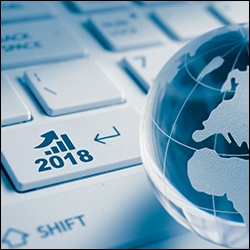 Are you ready for 2018? Global trade soared in 2017 across major economies around the world, raising hopes that the climate is ready to improve. And at the same time, the complexity of conducting global trade and complying effectively with numerous and growing regulatory and licensing requirements has also exploded.
As we flip the calendar to 2018, companies with global supply chains should keep their eyes and ears open for these primary concerns. Luckily, we'll explore these topics for you in our upcoming webinar, The 6 Global Supply Chain Trends to Watch in 2018, this Thursday, January 11, at 2PM EST.
Join Amber Road's Gary Barraco, director of global product marketing, and Ty Bordner, senior vice president of marketing & business development, as we take a step back and look into six big supply chain trends that will impact trade – and a quick peek at the solutions to help you overcome them:
Retail supply chain's need for flexibility to avoid breaking
Europe and Asia are churning out free trade agreements while the US remains staunch
BREXIT's disruption as negotiations crawl along
China's dominance in global manufacturing and trade
Keeping goods moving is tougher than it looks, and pricier
CXOs' dual responsibility to present-day performance and future goals
Now that you've caught up from the holiday break, and you've hopefully stopped accidentally typing "2017" in all your emails, get ahead of the game and look forward to 2018 with our trade experts.
This post was published on January 8, 2018 and updated on January 8, 2018.