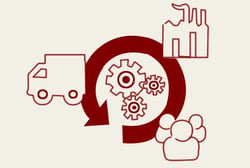 Continued from Part 2 of our "-abilities" series
"It is better to be safe than sorry." How many times have we heard these words at home and at work? The mindset implies that it is better to consider precautionary actions rather than be sorry you didn't. A relatively simple, wise, and precautionary approach; and in supply chain management it is most evidenced when planning inventory, seasonal promotions, or telling a customer when something will be delivered. Better to under commit and over deliver, than over commit and under deliver.
The challenge of this decision making approach is when the input of the equation of what is deemed 'safe' has significant variability. For example, the lead time variability of products in certain industries can differ by more than 50 days, or the histogram of a customer's deliveries within a trade lane could have a range of 3 to 7 days. When playing it safe, the typical reaction to such variability is to base the decision on the worst case scenario. But as supply chains become lean, a key component to improving efficiencies is to reduce variability levels. Predictability allows planners to utilize the most accurate reference versus using the worst case scenario of a highly variable supply chain.
One approach to control variability is by measuring trends and taking a deep dive into the orders and shipments that influence standard deviation. Having insight into what caused delays or early deliveries at an individual shipment level, and then comparing those results to the full data set allows a company to work with its trading partners to improve processes and reduce deviations from the expected result. Through eliminating the variation risks, supply chain performance becomes more predictable and reliable. Some of the most common contributors to supply chain variabilities include:
Hand-offs between trading partners
Total landed cost surprises
Incomplete or missing documentation
Customs delays
Labeling concerns
Upstream supplier performance
Measuring the variability and compliance of each one of these components establishes a score card and baseline for continuous improvement. A prescriptive supply chain stems from predictability. However, managing and predicting the supply chain influences can be daunting. Shifts in supplier base, geo-political influences and trade agreements, weather, port and trade lane operations, logistics service provider changes, and consumer behavior constantly transform and evolve. If there is one variable that is consistent in the supply chain, it is that change will happen.

As companies expand their reach to grow top line revenues in emerging markets and diversify supplier bases into new regions, there are more data points and influences for variability. It is impossible to predict how a company's supply chain will look 12 months or 18 months from now. The best way to manage variability in the midst of change is to automate the collection of key global trade management data and metrics. You cannot manage what you don't measure. Begin by measuring your variability and establishing goals and programs for a more predictable supply chain.

If you must base your decisions on a 'playing it safe' mentality, do yourself a favor and 'play it smart' as well by reducing the variability in your supply chain.

Interested in learning more about reducing variability? Download this brochure to learn how our solutions enable you to take an integrated approach to supply chain collaboration with visibility at every step of the way.
This post was published on September 1, 2016 and updated on September 1, 2016.