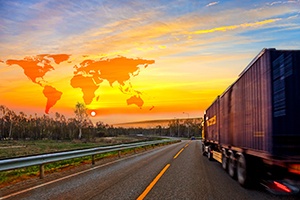 As companies expand global operations to take advantage of cost savings in other regions, they are put under pressure to deliver the right product at the lowest price into the waiting hands of customers. From sourcing to shipment execution, your global operations require collaboration with various parties, the exchange of documents, and the ability to quickly adapt to interruptions, all the while remaining compliant with global security initiatives. Without digitization, important and cost-saving details are bound to get lost in the shuffle.
To address this complex environment, organizations need to take a holistic, integrated approach to digitizing their supply chain to enable four methods leading to value: Collaboration, Automation, Analytics, Flexibility.
This video illustrates the benefits that these four methods drive:
Collaboration: Centralizing the flow of information across the end-to-end network will improve real-time visibility and accelerate time-to-market, leaving disparate systems in the past.
Automation: Automating the recurrent processes in sourcing, logistics, cross-border trade and compliance can dramatically improve operating efficiencies and financial performance.
Analytics: Deriving insights from performance metrics allows you to prioritize your efforts, identify risks, and take advantage of opportunities in your supply chain.
Flexibility: A digital supply chain provides the versatility needed to compete and succeed in today's fast paced and ever-changing world.
These methods of digital transformation drive the value factors of improved margins, agility, and risk reduction. From significant duty savings to sourcing optimization, a digital global supply chain delivers tangible cost savings. With continuously changing trade policies, B2B and B2C businesses must remain agile to keep pace in this rapidly shifting environment. Digitizing the supply chain can signifcantly improve several risk areas such as sourcing, logistics, and import and export transactions.
That is why the greatest global leaders have harnessed global trade management (GTM) solutions to achieve greater visbility and agility. As a GTM solution provider, Amber Road enables web-based collaboration, business process automation, data analytics and supply chain agility.
To learn more about the value of a digital global supply chain, download our new eBook!
This post was published on July 31, 2017 and updated on October 2, 2017.