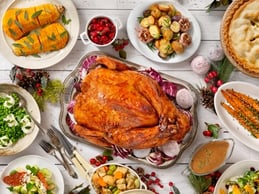 You were invited to the digital supply chain party – but are you going? Considering the added value of collaboration, analytics, automation, and flexibility, it's a hard invitation to pass up. However, many global companies struggle to justify the cost of a global trade management solution, which is your ticket into the party.
Amber Road is excited to sponsor the ARC Advisory Group report, The Digital Supply Chain: Don't Get Left Out Of The Party. The report looks at the digital global supply chain as a pot-luck dinner party. As the goal of a pot-luck dinner is to gather a variety of food and good company, a successful pot-luck requires planning and coordination by the host.
When executed correctly, a pot-luck dinner shares many of the same characteristics of a digital supply chain. It leverages each participant's strength – allowing for specialization and economies of scale. But it requires coordination and collaboration among various participants to achieve such success.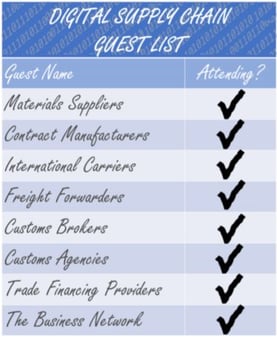 No one wants lamb chops at a vegan party. That's why the digital supply chain pot-luck accounts for everyone on the attendee list. When there is coordination and collaboration between material suppliers and the business network (and everyone in between), each guest's contribution enhances the value of the whole.
With dietary preferences and picky eaters, pot-luck parties are increasingly more complex. It would be catastrophic if Susan with the peanut allergy shows up unannounced. Luckily, the digital supply chain "guest list" is maintained by a centralized data network so all attendees know who is coming and what they are bringing. With the ability to react quickly to changes, Gerry knows not to bring his famous peanut butter cookies.
But, how does a pot-luck host manage in the face of complexities and change?
Companies like

Amber Road

provide

software solutions that create a digital model of the supply chain. This allows global organizations to manipulate, process and analyze a digital version of their entire supply chain. Providing value across collaboration, analytics, automation, and flexibility, a digital supply chain enables players to create a strong, results driven value chain.
As a leading provider of global trade management solutions, Amber Road's platform ensures that dinner is always served on time. Amber Road's broad and deep functionality accounts for the complex nature of the global supply chain. Our global trading network enables digital integration and communication with the extended players in your global supply chain.
Now is your chance to RSVP to the digital supply chain party. If you pass up on your invitation, you'll miss out on the goodie bag: improved margins, supply chain agility, and reduced risk. While you heat up a frozen TV dinner, your competitors will be rubbing their tummies, full of efficient information processing, proper collaboration among partners, and an in-depth analysis of operations.
To learn more about why the digital supply chain is a party you don't want to be left out of, download the report today!