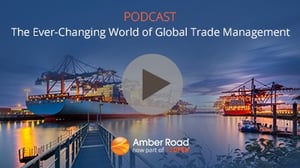 The world of global trade management is constantly changing course, responding to even the lightest geopolitical winds and leaving companies to redirect their global trade strategies with the unsettled landscape. In The Ever-Changing World of Global Trade Management, SupplyChainBrain's most recent podcast, Bob Bowman invites Gary Barraco to explore the past, present, and future of Global Trade Management and delve into how it impacts importers and exporters in today's market.
The two global trade management specialists discuss:
What Is Global Trade Management?
The first 12 minutes of the episode focuses on defining what exactly is encompassed in global trade, specifically global trade management, compliance, and the technology that helps businesses manage and optimize their entire global supply chain. In the past, global trade management focused on managing international trade and maintaining compliance with global government import and export regulatory requirements. Gary discusses how that definition has evolved to include the entire end to end supply chain.
Current Global Trade Management Security Concerns
At 12:39, Bob asks Gary about the current security concerns arising from the incorporation of the Internet of Things (IoT) in the supply chain. These concerns are escalated by the recent breaches of major companies and the publicity surrounding them. Tune in to find out if these supply chain technologies are locked down and how businesses can prioritize data security in their processes
The Single Window Filing System
At 15:17, Gary starts to delve in on the new Single Window Filing System. The Single Window Filing System is a new platform that will allow importers and exporters to file some regulatory documentation for over 47 different agencies across the world. As this system evolves Gary suggests that we will see organizations and partners in the supply chain start to focus on digitizing the supply chain and creating one shared language.
The Future of Global Trade Management Technology
Bob and Gary finish out the podcast by exploring how global trade management technology will change, what implications that could have for professionals across the supply chain, and how businesses can stay ahead of any major changes. They discuss the possibilities with supply chain integration and new technologies such as Artificial Intelligence (AI) and blockchain. This section starts at 16:17.

The Ever-Changing World of Global Trade Management episode provides an easily digestible guide to global trade management, covering the basics all the way to discussing how new technologies will affect business. Tune in to the episode to discover how your business could be affected by the current trends or new technologies.
This post was published on July 31, 2019 and updated on July 31, 2019.