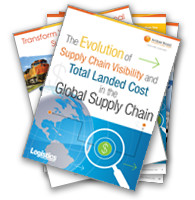 Global shippers are well aware of the number of new trade agreements being inked that will make it easier for U.S. organizations to not only source product from emerging markets, but also open the door to deliver goods into quickly growing consumer bases.

For example, the Trans-Pacific Partnership (TPP) could go down as one of the biggest trade deals in history and would have an impact on an area that includes more than 40% of the global economy.

At the same time, smaller, yet similar agreements to TPP are opening up golden opportunities for global shippers in new regions.

With that in mind, Logistics Management designed a special issue to help shippers overcome the mounting challenges facing global logistics operations. Key topics include:
A case study of how NCR put a global trade management (GTM) solution to work to get a handle on its total landed costs worldwide
Strategies for mitigating global supply chain risk
A comprehensive dive into the state of GTM functionality and benefits

Download this report to learn how you can enhance visibility and reduce total landed cost in your global supply chain!