The importing community is reacting to the recently announced tariff increases based on a recommendation from the United States International Trade Commission. This led to President Trump's move to add a 30% tariff on solar cells and up to 50% for imported washing machines. The tariffs on the solar cells would decrease over a four-year period.
The President is using Section 201 of the Trade Act of 1974, the so-called "escape clause" to take this action. This rarely used statutory provision empowers the President to grant temporary import relief, by raising import duties or imposing non-tariff barriers on goods entering the United States that injure or threaten to injure domestic industries that produce similar goods.
In a way, the United States is following the example of the European Union (EU). Facing similarly strong competition from low priced imports, in 2013 the EU placed a minimum import duty for cells that price them up to 30% above market levels. While the global solar energy market is calculated at over 65 billion in USD today, it's estimated to exceed 140 billion USD by 2023. The United States and the EU are clearly focusing on strategies to support their domestic manufacturing jobs and job growth in these markets.
Divergent Points of View From the Field of Huckleberry
For those who support job retention in the US, this is the right move and one that is long overdue. A great promoter of this is Mike Huckleberry, a restaurant owner in Greenville, Michigan, turned Democratic politician in 2008 – he was well known for watching a local firm move jobs overseas which prompted him to run for office to reverse this trend. He has since returned to the private sector, though he voices support for this initiative and that is most likely mirrored across the country in states where jobs have been lost.
Those in opposition to these tariffs have noted that less than 10% of the US' solar imports come directly from China. Instead, solar panels are predominately imported from factories in Korea and Southeast Asia. Consequently, this action will boost prices for both US consumers to purchase and install solar panels. Representatives of the solar panel installation industry believe that by making imported solar components more expensive, demand will shrink resulting in a crippling domestic backlash.
Despite countering facts and the tariff's impact on other countries, China appears to be the target for these tariffs. Trade cases made under Section 201 of the Trade Act are intended to apply globally although the administration said the tariffs are aimed at China who has gained tremendous market share of global solar panel production in the past decade. Increasing from 7% in 2005 to 61% in 2012. While China is the focus, many other countries may be hit a lot harder. This includes Malaysia and South Korea where 95% of America's solar modules are imported from.
Impact on Your Global Supply Chain
Don't be surprised or caught short by sudden tariff policy changes. As these announcements roll out, it's important firms get educated on the impact of changing duties and tariffs and a much more aggressive Administration trade policy. There are a multitude of changes taking place, so trade compliance personnel, legal, as well as purchasing and supply chain teams should be aware of these changes and how they impact your company.
Second, the impact may be sudden and firms must be able to manage these changes which would involve an immediate change to pricing as the new tariffs are implemented. Global Trade Management (GTM) automation capabilities will allow firms to immediately understand the impact on their landed cost, and profit schemes.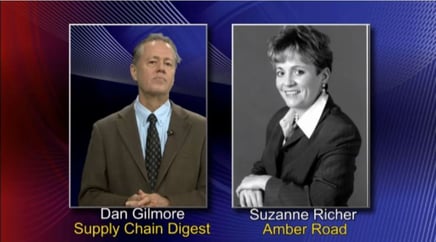 About the Author
Suzanne M. Richer joined Amber Road in 2015 to lead the development of a Trade Advisory Practice. She is a licensed customs broker and Certified Classification Specialist with extensive experience in advising Focused Assessments, C-TPAT cargo security applications and validations, and the Importer Self-Assessment (ISA) program.
In January 2018, Richer made her television debut on Supply Chain Video News, a Monday morning broadcast by The Supply Chain Television Channel and CSCMP. This blog is an elaboration on the interview topic, discussed between Richer and Dan Gilmore of Supply Chain Digest.
If you're interested in learning more, join Amber Road's Global Trade Academy's webinar, 'The Great Trade Pivot: Changing Policies and Their Impact on Your Global Supply Chain' on February 7th at 2PM EST. The webinar will explore the eight major trade policy initiatives are currently under review by the Trump Administration.

This post was published on February 6, 2018 and updated on February 14, 2018.