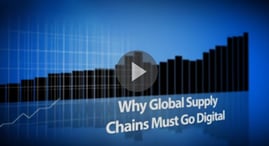 Many global supply chains are still paper-based, reactionary, and error-prone. Even if companies have adopted some digital processes, they are essentially re-keying data in across their suppliers, forwarders, customs brokers, ect. Beyond the large amount of unnecessary work, the resulting errors are inevitable.
Bob Bowman, Editor at SupplyChainBrain, and Ty Bordner, Senior Vice President of Marketing and Business Development at Amber Road, discuss how establishing one central repository of transactional and master data can transform a company's supply chain and create tremendous value. The video interview, 'Why Global Supply Chains Must Go Digital' explores everything from a definition of 'global supply chains' to what the future has in store.
What is a digital supply chain?
At this point the terms 'digital' and 'transformation' have become industry jargon. Most likely because digitization has become widely recognized as a best practice, and as more and more global companies transform their processes, it has grown into an industry standard or norm.
Bordner says, "In the global supply chain, to a large degree, companies are still paper based. At best they may have some digitization but I call it siloed, even though they may be digital they are still re-keying the information in which causes a lot of unnecessary work and errors."
A digital supply chain centralizes all data (primarily transactional) and leverages the master data that is stored in the solution platform. While many may be skeptical, the impact of technology on supply chain management has evolved from a dream to a reality. Vendors within the supply chain software space have made tremendous progress over the past few years to make this possible.
What are the obstacles to the progress of the digital supply chain?
"Mostly large corporations would benefit from this process, and in large bureaucratic companies that are spread throughout the world, it is difficult for them to make those centralized decisions that make this all happen." Bordner states. Progress of the digital supply chain entails overcoming these two main obstacles:
Company knowledge – The largest obstacle at hand is developing a firm understanding of what's available and the value it will bring to the company.

Executive pitch – Once company knowledge has been established, executive support is the second greatest obstacle. Fighting the internal battles to win the investment budget to make it happen, is perhaps the greatest challenge with the biggest payoff.
We already operate online, what is the need to go digital?
Regarding digitization, Bordner says, "what I'm really talking about is capturing the data in a format that is computer readable." Once a company has achieved a computer readable format, they achieve four key advantages: collaboration, automation, analytics, and agility.
Collaboration: integrating the silos across your supply network

Automation: automating recurrent processes and enabling supply-chain alerts

Analytics: measuring performance for improvement

Agility: competitive vehicle for operating in an uncertain and ever-changing business environment
These methods of transformation are the key to boosting revenue and achieving a competitive advantage.
What does it take to move to a digital supply chain?
The transformation process depends on how big the supply chain is, coming down to the number of products and countries involved from conception to delivery. Bordner says, "It can range across the spectrum, but large companies who are in 100 countries across the world who want to gain the benefit of this—there's an investment there that needs to be made. But the key is the ROI. If I make an investment, what is my ultimate return?"
While the process of a digital supply chain transformation could take years, it is the direction future supply chains are demanding. If global companies want to remain competitive, they will need to adapt digital processes to keep up.
To learn more, view the whole SupplyChainBrain interview on-demand for a comprehensive vision of a digital supply chain transformation.
This post was published on January 29, 2018 and updated on January 29, 2018.